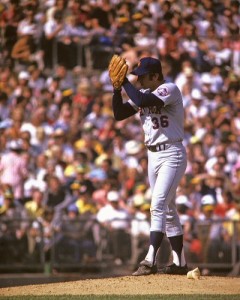 I looked at my calendar the other day, did some quick mental math and realized that 2011 will be the 50th season of New York Mets Baseball. There will be a lot of lists going around – they've already started – listing and linking the 50 Greatest Mets, the 50 Worst Mets, the 50 Nondescript Mets, etc. It'll be a fun exercise and may take our minds off the possible (probable?) follies of the CURRENT Mets.
So you'd have to start with Shea Stadium's last/Citi Field's first ever battery: Seaver & Piazza. Number 3? Gotta be Darryl. 4th seed goes to Darryl's Champion teammate and subsequent antagonist: HEEEE'S KEEEITH HERNAAAAANNNNDEZZZZ…
My choice for number 5 is best known by younger fans as the guy traded for Jesse Orosco. He's an often overlooked, but vital cog in the truly Amazin' post-season runs of the sainted '69 and revered '73: Jerry Koosman.
Kooz came out of nowhere – almost literally. He was a Minnesota farm boy, pitching in beer leagues. How did the Mets find him? The son of a Shea Stadium security guard was a participant in one of those suds games, wired his Dad about this hayseed sensation and Mets' superscout Red Murff was soon dispatched to check on the bona fides. Murff had a great reputation for sniffing out superlative arms, and he quickly certified Koosman as the real deal. Kudos to the short-lived Bing Devine administration for snapping him up quickly.
Jerry landed in the Big Leagues in 1968, right on the heels of Tom Seaver's spectacular Rookie of the Year season. With a blistering fastball and a drooping curve, Kooz racked up 19 wins that year, his WHIP a miniscule 1.100, his ERA a paltry 2.08. He lost out on his OWN Rookie award by a whisker – 1 vote. The winner? Some catcher named Bench.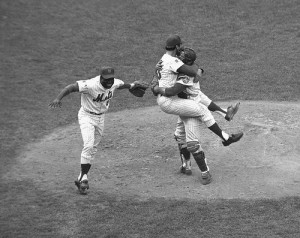 The next year, the Tom & Jerry Show, as it came to be known, was in high gear. Seaver won 25, Kooz 17. The post-season, though, was where Jerry truly shone. The man had the guts of a safe-cracker. In his very first World Series appearance, the day after a shaky Seaver put the Mets in an 0-1 hole, he held the Baltimore Orioles, one of the most fearsome lineups in Major League history – the squad of bashers known as Powell, Robinson (squared), Johnson, Hendricks, Buford & Blair – hitless through 6 innings. On the road. The next time he was seen on the mound, it was back at beloved Shea, going the route in the game that sent the Mets into orbit. An indelible symbol of the Summer of '69 happened in the fall – Koosman having leapt into catcher Jerry Grote's waiting arms, as third-baseman Ed Charles dances like a bullfighter on a binge.
It really couldn't get any better than that.
In late-1970, Koosman came up with elbow trouble. This effectively wiped out his fastball speed. It was almost two full years before he could resume the workload to which he was accustomed. Slowly, he came back – a different type of pitcher than he had been those first three glorious years, to be sure, but he was back at his customary IP levels (250 inning, plus) by 1973. Just in time for him to face another offensive juggernaut in the post-season, the '73 Cincinnati Reds.
The Reds were even scarier than the O's: Joe Morgan, Bench, Pete Rose (boooo!) and Tony Perez. Kooz shut 'em down completely in Game 3 of that NLCS, overshadowed, of course, by the Rose/Bud Harrelson brawl and the left-field-trash-tossers in its wake. In the World Series that year against the Swingin' (and Brawlin') A's, Jerry was less than effective in the circus that was Game 2, but tossed a 3-hitter at Reggie & Co. in a pivotal Game 5 at Shea.
So it went for the next three and a half years. The Tom & Jerry Show would be a major Broadway hit, but there were not other hits to go with it: the Mets' pitiful offense would not support their sterling arms and mediocrity flowed, record-wise – with the glorious, for Koosman, exception of 1976 and his first 20-win campaign.
It all fell apart, of course, as everything did in 1977. He followed his 20-win pinnacle with a 20-loss trough. A 15-loss season followed in '78, then the trade back home to Minnesota.
But while he was here? Hoo BOY could he pitch!