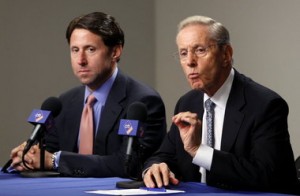 The Mets are now officially looking for some minority partners. For fans, most of us dream of the Wilpons outright selling the club. The owner has been dubbed Freddie Coupons, while the son is considered as a know-nothing meddler. But even if the Wilpons were to sell, who would come in and do a better job?
The first reaction is almost always "Mark Cuban" or a "Mark Cuban clone." The owner of the NBA Dallas Mavericks, Cuban is known for running a first-class operation. He spends money both on players and amenities. He lives and dies with his team. Cuban stands up strongly for whatever he believes. Shoot, he is so passionate he even once ran out onto the basketball court to argue with the refs.
But, let's look at this a little more objectively. Cuban purchased the Mavericks in January of 2000. In that time span, the Mavericks have won zero NBA titles and have been to the Finals just one time. By contrast, in that same time span, the Mets have the exact same record. No championships and one World Series appearance.
So, a charismatic owner with virtually unlimited pockets has not produced anything better than what the Mets have received.
Instead of looking at a real person, let's build our ideal new owner from the ground up. Yes, I am aware how unusual it is for one person and his extended family to be the undisputed owners of a professional sports franchise. But if we are going to dream – let's dream big. Let's assume that there is one person out there willing and able to buy out the Wilpon family.
Obviously, this person/family will have to be super rich. Not Cliff Floyd, made $53 million in my career and my great, great, grandchildren are set for life rich. No, more like A-Rod-Jeter-Bonds-Griffey combined type of rich.
But being super rich is not enough. Carl Pohlad was one of the richest men in the world but the Twins never had a big payroll under his stewardship. You have to be willing to spend money and invest in the product. Preferably our owner looks at the luxury tax as the equivalent of a mosquito bite, something to avoid if possible but not something so fearful as to make steering clear of it a top priority.
We probably want our owner to be youthful, someone who can be counted on to be around for awhile. We don't want to have to repeat this process in five or 10 years. We want someone who is definitely under the age of 60. But at the same time, we want someone old enough to have been around the block a time or two, someone who knows things don't happen instantly and who won't panic when things inevitably go wrong.
From here it gets tricky. Do we want someone without children? Our first instinct, given our current ownership status, is to say yes. But I don't think that's fair, to claim that every heir is automatically incompetent. We have plenty of cases, both on and off the field, where the sons have done a wonderful job of carrying on the family name. The Boones, the Bells, the Griffeys, the Bavasis and the McPhails are the ones that jump immediately to mind. Perhaps one day we will add the Steinbrenners to that list, too.
I am inclined to want our new owner to have an heir interested in one day running the club. But I want this heir to work his way up to power and not be handed a Vice Presidential role on his 18th birthday. Let him work in scouting or marketing or game day operations and learn the business from the ground up.
It is hard to imagine an owner of a sports franchise in New York to be completely hands off. Even if he wanted to, the press would not let him get away with it. So our new owner has to be someone smart enough to hire baseball people and then stay out of the way. But he has to also be comfortable enough to handle the onslaught of publicity that will inevitably come his way and say colorful, quotable things without getting into the realm of what his general manager should be doing.
How many owners can you think of that are like this? Perhaps Nolan Ryan is, but Ryan has been pretty vocal about wanting his pitchers to handle bigger workloads. I think I would prefer my owner to let his staff handle those things and remember that for every Ryan, there are guys like Buzz Capra, Gary Gentry and George Stone, talented pitchers whose bodies couldn't handle the load.
Nelson Doubleday was pretty good at this. He hired Frank Cashen and then let him do his thing. But Doubleday screwed up by letting Wilpon gain 50 percent control of the team. He eventually got so fed up with the arrangement that he left. So our new owner has to love the game enough to stick with it when things get rocky.
So, we want our owner to be rich and willing to spend money (Cuban)
We want him to hire good people and stay out of the way (Doubleday)
We want him to stick around for awhile and preferably groom his replacement (Wilpon, Steinbrenner or perhaps a better illustration would be Clark Griffith, who combined with his nephew/stepson Calvin ran the Senators/Twins for roughly 80 years).
The first quality should be the easiest to find. It's the other two which are problematic. Undoubtedly, there are better investments out there than sports franchises. Those who do buy them are driven by the prestige factor. And what's the sense of owning a team if you're not going to flaunt that prestige? How long will you let somebody else run it for you? And have you raised children who won't turn out to be over-privileged screw-ups?
Could it be, gasp, that the Wilpons have been pretty good owners? We complain about them being cheap, but their payrolls have been top five. We complain about them meddling but they just got finished hiring what is a well-regarded front office. And they've been around the Mets since 1980 in one form or another, doing everything they could to increase their stake in the team.
I did not fully embrace getting rid of Omar Minaya not because of his job performance but for fear that the Wilpons would hire the second coming of Steve Phillips. That fear proved to be unfounded. Now I fear how new ownership might alter the Mets today and in future years in a negative way. Hopefully that will prove to be needless, too.