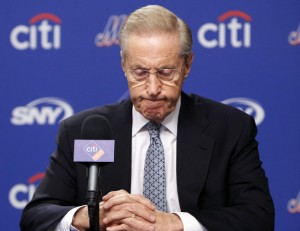 When news of the follies and frolics of the super-rich filters down to us, the great unwashed, it's usually entertaining. William Randolph Hearst invites Jimmy Stewart and Louis B. Mayer out to San Simeon? FUN! Papa Joe Kennedy referees while Young Joe, Jack, Bobby, Teddy, Kick, Pat and Eunice play a game of touch on the lawn? GREAT! Fred Wilpon and Nelson Doubleday are such big baseball fans they've rescued the Mets from a clapped-out Payson family? HALLELUJAH! See? They like to have fun, just like us. Isn't it cute?
The trouble starts when those follies & frolics have a direct impact on OUR entertainment. When Louis B. gets in bed with Will Hayes and J. Edgar Hoover, the "Production Code" is born and censorship limits what we're allowed to see. When William Randolph Hearst foists Marion Davies and her hambone non-talent on an unsuspecting public, simply because he can and she's sharing his bed, the paying customer is ultimately affected. The Kennedy hegemony was and is played out on a world stage – to the fascination of many and the dismay of more than a few.
As for the Wilpons, the latest revelations about their financial woes have left me with a case of vertigo. I'm not sure exactly WHAT to make of the latest tidbits. The Wilpons announce they are looking to take on another investor for the first time in 30 years? I can't really sort out whether or not this is good news. Does it mean there's another voice in the room? Well, I'm all for that if it puts a leash on young Jeff. They say they won't relinquish control of the team, but I'm not sure who-in-their-right-mind would want to sink upwards of $100 million into an organization in which they would have no say in its running.
A thing to bear in mind, as well, is the fact that Freddy & Jeffy aren't taking on this limited partner with the idea that their influx of cash is going BACK INTO THE ORGANIZATION. This $100+ million isn't going into the "Saving-Up-For-Albert-Pujols" fund, nor will it be sunk into the vital scouting department or player development arms of the operation.
No, sir.
It'll be going to pay the creditors currently stalking Sterling Equities, the parent company of our beloved NYMs.
And I DO know that THAT is not good news at all.
If there is a Miracle Man owner with a magic pill at his/her disposal, I pray that they reveal themselves quickly: my stomach can't take much more.