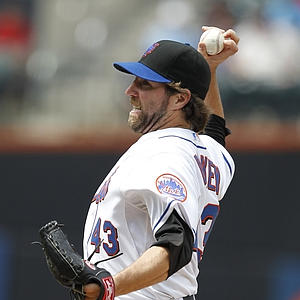 Beyond a shadow of a doubt the feel good story of 2010 for the Mets was the emergence of R.A. Dickey. Signed for Triple-A, Dickey instead spent most of the year in New York and became one of the club's most reliable starters. Counted on to be one of the Mets' top pitchers in 2011, Dickey just inked a two-year contract.
But what should we expect from Dickey in 2011? As I pointed out back in October, Dickey really benefitted from his home park last year. Here are his home/road splits:
H: 7-3, 1.99 ERA, 3 HR in 81.1 IP
R: 4-6, 3.58 ERA, 10 HR in 93 IP
Certainly, a 3.58 ERA is nothing to sneeze at and fans should be happy if he pitches that well again this season. But it's still a difference of 1.59 which should not be swept under the rug.
Both Dickey's FIP (3.65) and xFIP (3.88) show that he pitched better than his peripherals would suggest. But that is not unexpected for a knuckleball pitcher. What Dickey did do last year that was a surprise was display outstanding control. He had a 2.17 BB/9, which tied Jered Weaver for the 12th-best mark in the majors.
By comparison, Tim Wakefield's career BB/9 is 3.39 while Phil Niekro had a 3.01 lifetime mark. In four of his last five seasons, Niekro's BB/9 were over 4.00. However, Niekro was 44-years old at the start of that run. Dickey will be 36 during the 2011 season. At a comparable age, Niekro had a 2.35 BB/9.
So, maybe Dickey can repeat his low walk totals from a season ago. And while he did have a big home/road split, he still will be pitching half his games in Citi Field again this season. Maybe there's reason to be optimistic about Dickey for 2011.
One of the criticisms of the Omar Minaya regime is that he would re-sign veteran players after they turned in an unexpectedly good season. Players like Moises Alou, Luis Castillo, Fernando Tatis and Jose Valentin re-upped with the Mets after a successful initial stint, only to fail to match what got them an additional contract in the first place.
Let's hope that Dickey, Minaya's last veteran find, breaks that cycle and pitches well enough for the Mets to pick up his option in 2013.