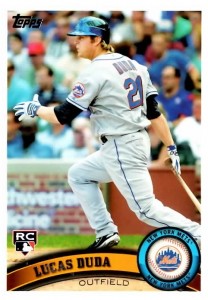 2011 TOPPS Lucas Duda
Leap with me, if you will, into the present.
The kids were looking at the pegs of Pokemon cards in Target over the weekend, and the 2011 Topps cards caught my eye.
"The new cards are out! The new cards are out!" I yelled.
Well, actually I didn't.
But I did grab a couple of 36-card rack packs, along with a pair of 12-card "wax" packs.
And in some ways, these cards are the stuff of my childhood dreams.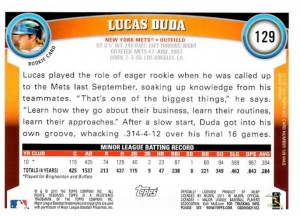 The basic set consists almost exclusively of sharp action photos, and the fronts shimmer with a light application of UV coating and silver-foil highlights. The backs are in landscape format and feature full stats, and text as space allows.
The variety of insert cards makes each pack feel like a toy box.
I pulled a Kimball reprint mini card of Mel Ott, a reprint of a 1932 US Caramel Ty Cobb, and 60th Anniversary reprints of a bunch of old Topps cards: 1959 Roger Maris, 1974 Mike Schmidt, 1991 Roberto Alomar, and 2010 Albert Pujols.
Ah, I remember that 2010 set as if it were yesterday…
I also received a Diamond Giveaway sweepstakes card, which can be redeemed for valuable prizes including a diamond ring or a 1952 Mantle. Or the 1978 Bob Myrick that I expect will be my take.
The set also includes a diamond parallel version of each card, which is just dazzlingly shiny.
I actually tried to give one of these diamond cards to a 6-year old baseball-crazy kid who was at our Super Bowl party on Sunday, and he recoiled in wordless horror.
So yeah, a bit too shiny, perhaps.
But what would have stuck in my preteen craw is the fact that out of this potpourri of 96 cards I ended up with exactly one Mets player: a 25-year old rookie who will probably amount to a whole lot of Dave Schneck…