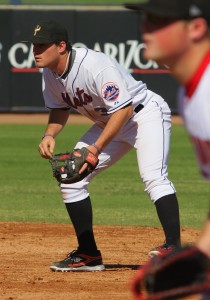 "Murph may not be able to do things that other people can do, but what he can do is work on the skills that he does have and make them serviceable," Teufel said. "I couldn't turn double plays the way certain people could, but that didn't mean I couldn't play the position effectively.
"I had to find out the ways that worked for me, so I could execute. … You identify the ways you can turn a double play and you make it efficient."
Triple-A manager Tim Teufel, relating his experiences when he switched from being a third baseman to a second baseman. Teufel, who also suffered a knee injury during his transition, is in camp with Daniel Murphy now.
Source: New York Post
*****
If you prefer longer articles, that's our specialty here at Mets360. Just click on "Perspectives" or "Minor Leagues" or "History" on the gray menu bar above this article's headline and you will be taken to a list of over 190 articles written since the beginning of 2010.
If you enjoy the quick hitters, click on "Quotes" in the same menu bar to see our archive.
*****