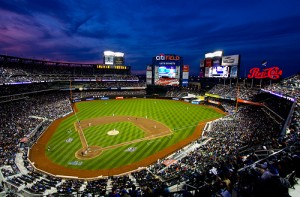 Here we sit, on the eve of the 50th Opening Day in the history of the New York Mets. Much has been made of openers in Mets history, the bad (never winning one from '62 through '69), the good (hardly ever losing one from '70 until now) and the foreign (Japan in 2000). On Opening Day, it's traditional to accentuate the positive. "Hey, we're tied for 1st! Everybody's 0-0!" There's always the anticipation of what the summer will bring us, of the better days ahead, of the warm weather and the barbecues and Howie & Wayne on the radio in the back yard. It's all good on Opening Day, even if there's snow in the forecast.
As stated above, the Mets have had great success in lid-lifters for the last 40-odd years, and very little to show thereafter. How come? I mean, I know you've always got your ace out there to start things off – and it certainly helps when your aces over the years are named Seaver, Gooden, Pedro or Santana – and the pitchers are ahead of the hitters, as the old saw goes. But it seems like every year, the bloom fades from the rose. 1-0 becomes 1-1 all too quickly. Even in the magical year of '86, the Mets started off 2-3. And it's not like the #2 men in those rotations were any slouches: Koosman, Darling, Glavine, etc.
I think the opener is a pretty intense day, what with the bunting and floral horseshoe and the speechifying and the first ball and all. Next day is kind of a let-down and they realize that they've got another 5 months to grind things out and come out successfully or not at all. There's a sprint to the starting line, but the marathon ahead appears daunting.
So, I'm going to enjoy Friday night in Florida – from afar, of course – secure in the knowledge that the Mets won't play 1.000 baseball: they'll be .500 soon enough.