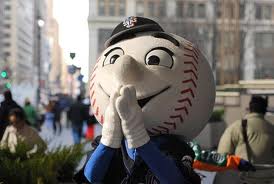 There is a storm brewing. It is breaking apart something that has always been great about the New York Mets: their fan base. With a devastating losing streak happening with the 2011 team, the fan base seems to be divided. Some have taken to jumping out of Citi Field. Others have raised their voices in blowing apart a team that has yet to show them anything. There are still more that would love to believe, but not sure in how to.
The New York Mets fan base has always been one of loyalty. They suffered in the early 1960's and were rewarded with a championship in 1969. They suffered in the 1970's and again were rewarded with yet another championship in 1986. Two championships in a little over two decades of existence.
Then came the 1990's and the teams that everyone hung their heads in shame. Yet they still were true to the orange and blue. At that time, their reward was Mike Piazza and soon the infield that some describe as the best infield ever in the history of baseball. The tides seemed appeared to be changing for the Flushing faithful.
The year 2000 came and so much optimism circled. The late '90's were just a warm-up to what Mets fans were waiting for: a trip to the World Series. Only this time, there was no championship as a reward for being faithful.
The famine for a championship continued. It continues even to this very day.
The patience of the fan base has grown very thin. It is hanging by a thread. Fans are calling for a sale, trades, firing of Terry Collins and Sandy Alderson who have only begun their jobs. The anger has festered to the point where logic has left. It has also driven apart a fan base that usually sticks together. The pessimistic fans are getting annoyed with the optimists and the optimists are getting fed up with the pessimists. One fan has gone so far as to write a letter to those who insist on giving up on a team where the motto is "Ya Gotta Believe".
It is sad to see such a passionate fan base at each other's throats. The remedy is a simple one: the New York Mets need to start winning. They need to come together and do what they should have been doing since 2007. They need to play the game. They need to show heart. They need to show some fight. They need to make pitches, hit balls, make plays and stop making errors. Right now, it is the players that can bring this fan base back to what it was.
The fans who want to believe should keep on believing and never stop. Rewards will come. When they do, you can look at those who did not believe, insisted on jumping aboard the bandwagon and say "There is no room for you here. Try the Yankee bandwagon. There is always room there.". For those who have a heart, you might turn around and say, "Welcome back".