I'm not going to go into detail about this point in this 2011 season. If you're reading this, it's already painfully obvious to you what's transpired. Base running gaffes, lousy pitching, over-eagerness at the plate and a general, overall malaise are the marks of this year. It all seems very Polo Grounds-ish, without charm, or goodwill emanating back to the team from the stands. Let's face it: it's a godawful time to be a fan of this team.
In the wake of their second straight loss to Houston this past Wednesday, I seethingly left a message on another blog's board, advocating the following "plan" for the future:
Extend Jose Reyes' contract.
Extend David Wright's.
Extend Ike Davis's.
Extend Josh Thole's.
Keep Johan Santana
Run everybody else out of town on a rail & bring up some kids and AAAA guys from Buffalo and Binghamton.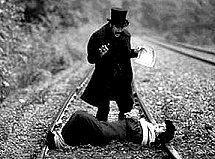 My thinking was, if you're gonna lose a hundred anyway, you may as well do it cheaply. That might be music to Wilponian ears, though, and I'd much rather see this team get sold. I don't want Fred & Jeff Wilpon to hang on by their fingernails and we as fans endure a Chinese water-torture kind of existence. I pine for Stuart Sternberg — presently owner of the Tampa Bay Rays – to leave Florida in a huff since he won't be getting a new ballpark. Oh, and PS: he's a Met fan/season ticket holder. I think he would "get" us, as the Wilpons don't. Lately, I'm seeing Fred & Jeff as real villains and we, the fans, are the old ladies they're tying to the railroad tracks. It makes me chuckle to thing of Jeff Wilpon twirling a Rollie Fingers-style moustache. NYA-HA-HA…
It could be worse: they COULD be the Dodgers. Maybe Fred – with his blatant Dodger-love – has gotten what he wanted all along…