Last week, a rush of news from the Ivory Towers of Flushing informed the world that hotshot fancier David Einhorn had sunk $200 million of his hard-earned moolah into a shaky-at-best operation known as the New York Mets. Over here, it was immediately viewed as good news . If I were to listen to the MSM – which is really quite funny, if you've read any of my stuff at all – I would come away with a far different impression.
Adam Rubin and David Lennon would have us believe that Mr. Einhorn might actually be a bigger villain than Fred and/or Jeff Wilpon. Einhorn showed up at City Field on Memorial Day and gave the media…well…nothing. He did exactly what any savvy businessman who has entered into a deal which has yet to be finalized would do: said nothing. Could he confirm that the new deal had a clause which would allow him to take full control of the Mets? Can't answer that. Will he be sinking more money into the team? Deal isn't final, so I can't comment. What do you think of the team on the field? Can't say and I really shouldn't. This drove the beat guys bonkers and as we see from the two citations above, they went straight to the trusty narrative: if the Mets are involved, it's gonna be bad…REALLY bad. It's actually funny to read.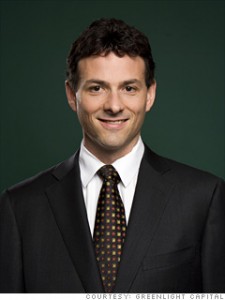 So who is this Einhorn character, anyway? From most accounts, he's the latest Wall Street wunderkind, the ballsy dude who, among other things, predicted the falls of Allied Capital and Lehman Brothers and made a tidy sum short-selling those two formerly august entities. He currently has his sights on Microsoft, which he feels is being mismanaged by CEO Steve Ballmer.
Sound familiar?
It seems he can also play the goofball, if he wants to, sporting the good ol' backward baseball cap look at the poker table.
In fact, he finished in 18th place in the World Series of Poker in 2006, pulled down over $650,000 and immediately turned it over to his doppelganger, Michael J. Fox for his foundation for Parkinson's research.
So the Einhornian mad poker skills serve him well in other areas, apparently.