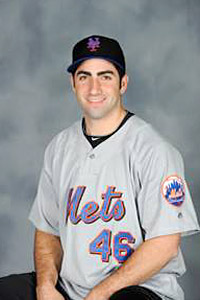 In his last 10 games, 2B Josh Satin is batting .406/.537/.781 over 40 PA. For the season, Satin has a .967 OPS in 85 games for Double-A Binghamton. Satin earned a callup to Binghamton last year and in 332 PA for the B-Mets he had a .308/.395/.472 line. He has bettered all three of his slash line totals this year and seems likely to get promoted to Triple-A before the season is over.
A sixth-round draft pick of the Mets in 2008, Satin has hit wherever he's been. A two-time Cape Cod League All-Star, Satin played four years at Cal and in his senior season he led the Bears with a .379 AVG and finished second on the club with 18 HR. He was a first-team All Pac-10 selection and third team All-American by Collegiate Baseball.
He starred for Brooklyn in 2008 after he was drafted by the Mets, as he posted an .812 OPS for the Cyclones. In 2009 he split time between two Class-A clubs and had 48 extra-base hits in 462 ABs. Last year he started at Hi-A St. Lucie, where he notched an .865 OPS and forced his was to Double-A.
Satin was an alternate for the Arizona Fall League and he got into 12 games this past fall with the Mesa Solar Sox, where he batted .390 in 12 games.
An older prospect at age 26, Satin may not be a future star but he seems destined to reach the majors. With his ability to hit, along with questions about his defense, Satin seems like a righthanded version of Daniel Murphy. He's played all four infield positions in the minors, further adding to the Murphy comparison.
BINGHAMTON BASHERS: Satin is not the only hitter flourishing at Double-A. SS Jordany Valdespin has five multi-hit games in his last 10 appearances. Valdespin has increased his average each month of the season, going from .221 to .281 to .330 to .383 here in July. Teammate OF Matt den Dekker got off to a slow start after being promoted to Binghamton, but is batting .316 over his last 10 games, with 12 runs scored. He also has 2 HR and 8 RBIs in that stretch.
FLORES STILL WAITING TO BREAK OUT: SS Wilmer Flores has struggled lately with just two hits in his last 18 at-bats. For the season, Flores has a .271/.312/.374 line. He's always been one of the youngest players in his league, but Flores has shown little to no improvement over what he did at St. Lucie last year. Last year he had a .739 OPS in 67 games at Hi-A St. Lucie. It is too soon to give up on the soon-to-be 20-year old. But at some point he needs to put up some offensive numbers to justify the hype.
NEWS & NOTES: 3B Zach Lutz is 7-25 with a HR for Triple-A Buffalo since being activated from the DL. Lutz had been sidelined with a concussion… Bisons LHP Pat Misch allowed just 1 ER in two starts covering 12.1 with 0 BB and 9 Ks but was 0-1… Binghamton's Jeurys Familia, who was winless in his first eight starts after being promoted from St. Lucie, won back-to-back games with 13 Ks in 10.1 IP… St. Lucie OF Pedro Zapata is on a 12-26 streak. He's batting .389 in the month of July and carries a .319 overall average… OF Cory Vaughn continues to flourish for St. Lucie. He has a .947 OPS since his promotion and had a three-hit game Sunday versus Tampa…19-year-old 3B Aderlin Rodriguez has five hits in his last three games for Low-A Savannah. The youngster has good power numbers with 10 HR and 51 RBIs but has just a .226 AVG… C Jeffrey Glenn, a ninth-round draft pick in 2009, is tearing it up in the rookie Appalachian League. The 19-year old has three straight 2-hit games and had a .320/.352/.600 line after 14 games.