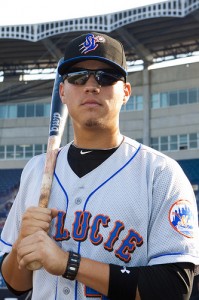 Although I'm sure the New York Mets' brain trust won't admit it, there must be a little concern over Class A shortstop Wilmer Flores, who entered 2010 as the Mets' finest young hitting prospect and one of the best youngsters in the lower levels.
Flores hit .269/.309/.380, not bad for a kid who just turned 20 in August, especially since he's playing against players two to three years older on a nightly basis.
His career up to this point has somewhat followed that of two other top Mets hitting prospects in terms of being highly regarded and being challenged at a young age: David Wright and Fernando Martinez.
In 2003 as a 20-year-old at St. Lucie in the Florida State League, Wright hit .270/.369/.459 with 39 doubles, two triples, 15 homers with 72 walks, 19 steals and 98 strikeouts in 133 games and 549 at-bats.
Martinez actually made it to St. Lucie for 119 at-bats in 2006 as a 17-year-old, batting .193, and started the '07 campaign at Class AA Binghamton, a campaign that kick-started a career of injuries, lack of development and inconsistency.
Wright buzzed through the two highest levels the following season before starting what has turned out to be a very productive major league career. Martinez, who may have been a little older than listed, has never hit .300, has reached 10 homers just once and never had a season with an OPS of .800. Furthermore, he never walked showed a propensity to work the count, showing no improvement over his career.
So where does Flores fit?
Flores, a shortstop who most scouts feel will outgrow his spot and move to the hot corner where Wright played, split the '10 season between Class A Savannah and St. Lucie, hitting .289/.333/.424 with 36 doubles, 11 homers and 84 RBI with 32 walks and 77 strikeouts in 133 games and 554 at-bats.
It's a little unsettling that after Flores spent the last 67 games at St. Lucie in '10, New York felt the Venezuela native wasn't equipped to make the jump to AA Binghamton at all this summer. And his numbers fell across the board.
The problem with Flores is that it appears he may have plateaued. One thing scouts and front-office people look at is an ability for hitters to make adjustments. Flores had a .688 OPS in the second half this season, after posting a .690 OPS in the first half. And his numbers fell across the board from 2010 even though he had the comfort of returning to a league he spent half of last season..
The 6-3 righthander hit just nine bombs this season after 11 last year – his most over his four years of professional ball. However more concerting to scouts and analysts has been Flores' inability to command the strike zone. He had just 27 walks over 516 at-bats this year and has just 92 in four years and over 2,000 at-bats.
So where does Flores fall?
It's fairly obvious now that Flores isn't tracking like Wright, but will he be a bust like Martinez? On the positive side, Flores has proven to be extremely durable over four seasons, therefore there's little concern he will be stunted by a plethora of injuries. However, his productivity closely resembles that of Martinez, who has been indifferent statistically in the minors and a disaster in a few major league auditions.
Flores needs to show he gets it as far as his approach at the plate. His bat could play in the major leagues if he can remain at shortstop – he did commit just 20 errors this season – but it won't play at a corner infield or corner outfield spot.
There have been too many young hitting prospects with physical tools, a projectable body and bat speed that couldn't master the mental aspect of the craft and fizzle out. Flores won't fizzle out, but he won't be anything more than a bit player for the Mets.
**************************
LHP Darin Gorski (11-3, 2.08 ERA), the Florida State League Pitcher of the Year, will start Game One of the playoffs for St. Lucie against Bradenton. "I couldn't have imagined this, not (during spring training)," Gorski told Bill Whitehead of the TCPalm.com. "I started out in the bullpen, and just to get a chance to start was so exciting for me. One thing led to another, and things went great. It's been a fun season." Following Gorski will be Zack Wheeler (2-2, 2.00 ERA) and Greg Peavey (5-4, 3.97 ERA). … In the opening round of the low Class A South Atlantic League playoffs, Savannah plays Augusta in a best-of-three series starting Wednesday. …
AROUND THE MINORS: Binghamton RHP Matt Harvey led the organization with 13 wins. He had his five consecutive winning-starts streak snapped Saturday against Reading, allowing four runs, three hits and four walks in three innings. The 2010 first-rounder finished with a combined record of 13-5 and a 3.19 ERA in 25 starts. He allowed 123 hits in 132 2/3 innings, while striking out 154 batters and walking 43.… RHP Collin McHugh, promoted on May 29 from St. Lucie, won his last seven starts of the season to finish with a record of 8-2 at Binghamton. … OF Juan Lagares, who split the season between St. Lucie and Binghamton, hit .349 – fifth best in the minor leagues. The 22-year-old hit .370 in 38 games at AA.