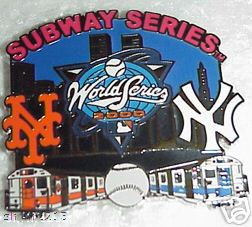 October 26th marks a sad, but important, day in Mets history.
Eleven years to this very day, the boys from Flushing dropped the fifth and final game of the 2000 World Series 4-2 to the New York Yankees.
Down three games to one, the Mets entered the elimination game with one of their top pitchers on the mound, Al Leiter. Bernie Williams put the Bronx Bombers ahead with a solo home run in the top of the second inning, but Bubba Trammel and Jay Payton scored unearned runs off Andy Pettitte to give the Mets the lead.
Derek Jeter launched another solo bomb in the sixth inning to tie the game at 2 apiece entering the later innings. That would prove to be an omen, as Luis Sojo hit a two-out single off of Leiter in the top of the ninth inning. The throw to the plate hit Jorge Posada, allowing Scott Brosius to also score.
In the bottom of the frame, Mike Piazza stepped up to the plate against Mariano Rivera as the tying run. He crushed a deep fly ball, which was caught in the deepest part of Shea Stadium, devastating Met fans everywhere.
In the decade since, New York hasn't returned to the World Series. They came very close in 2006 when Endy Chavez made the catch, but Yadier Molina and Adam Wainwright made sure it was St. Louis, and not the Mets, who would go on to beat Detroit that year.
Obviously the years since have been disappointing and the team is finally going through a rebuilding phase. With the 2011 World Series still active, Jose Reyes remains a Met, although he will be one of the most sought after free agents. Many of the team's highly-touted pitching prospects remain at least a year away from the big club. And just to add insult to injury, rumors are abound about GM Sandy Alderson trading David Wright to someone like the Colorado Rockies.
Perhaps New York will emerge as a perennial playoff contender in the next few years, hopefully with Reyes and Wright leading the way. But for now, fans are forced to remember 2000.