Yesterday on Facebook, I shared George Takei's photo of Confucius which said:
Forget about the past, you can't change it.
Forget about the future, you can't predict it
Forget about the present, I didn't get you one.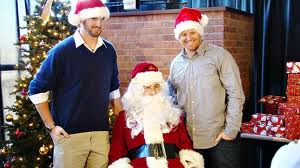 But I have specific presents that I wish I could give out to the 2012 Mets which would make next season better than the previous three. Here's what I think these guys really need.
Manny Acosta – A bounceback in his ground ball rate. Here are his GB% in the majors, starting with 2007 – 59.6, 53.4, 44.1, 41.7 and 37.1 last year. He's got a career 46.2 GB% and a return to that number would do wonders for his bottom line.
Jason Bay – Last year he had brief streaks where he hit the cover off the ball followed by extended stretches where he could not buy a hit. In 2012, let's give Bay some consistency, preferably at a much higher level than he's shown overall in his two seasons with the Mets.
Tim Byrdak – It's hard to come up with a gift for the guy who had everything go right for him last year. He's got a guaranteed contract and a manager who did an outstanding job after the first month or so of limiting his exposure to RHB. So, here's wishing continued good health for the player who likely will be the oldest one on the Opening Day roster.
Ike Davis – No one is expecting Davis to hit lefites as well as he does righties. But last year's .493 OPS against southpaws was not acceptable. Let's give Davis some good ABs versus LHP, so that opposing teams don't give him the Ryan Howard treatment and bring in a lefty to face him for every PA in a close game from the seventh inning on.
R.A. Dickey – Last year the Mets scored two runs or fewer in 14 of Dickey's 32 starts, which explains how a guy with a 3.28 ERA won just 38 percent of his decisions. So let's put a little run support under Dickey's tree this year.
Lucas Duda – Everyone talks hopefully about how much the new ballpark dimensions will help Bay and David Wright. But they're going to help Duda, too, both offensively and defensively. In the past two seasons, much has been made about Duda's confidence level and his numbers have improved as the PA mounted. So, let's give Duda the necessary confidence level to handle all that comes with being recognized by fans and opposing teams as the Mets' biggest star.
Frank Francisco – A case of the magic elixir that Francisco discovered the final two-plus months of the 2011 season. In his final 22 games covering 23 IP, Francisco had a 1.17 ERA with 4 BB and 21 Ks. He limited opposing batters to a .181/.218/.301 line in that span.
Dillon Gee – A season without unrealistic expectations from fans. Gee was outstanding in his first dozen starts last year and some fans still think he can deliver that performance over an entire season. If Gee can deliver another season of 160 IP with an 84 ERA+ — we should all be content with those numbers.
Daniel Murphy – May Santa bring him a season with 650 PA. If he gets that, Murphy will take care of everything else.
Jonathon Niese – Advanced metrics see him as performing much better than his actual record. Last year he had a 4.40 ERA and a 3.28 xFIP. So for Christmas let's give Niese a year where his ERA matches his peripherals.
Bobby Parnell – We know Parnell is going to strike out a bunch of guys. We also know that when batters hit the ball, they're going to post high BABIPs, as Parnell has a .335 lifetime mark in the category. So, the best thing we can give him is a low walk rate. In 2010, Parnell had a 2.06 BB/9 and looked like an All-Star. Last year his BB/9 nearly doubled and he resembled a Triple-A vet. If we split the difference, Parnell can still be a valuable pitcher, especially now that he won't be used as a closer.
Mike Pelfrey – A four-leaf clover, a horseshoe and a rabbit's foot. Perhaps no pitcher in baseball needs luck more than Pelfrey. If you examine his xFIPs for the four full seasons he's been in the majors, here's what you'll see: 4.45, 4.47, 4.31 and 4.55 last year. It would be extremely difficult to find a pitcher who has been more consistent than that. But in 2008 and 2010, Pelfrey had ERAs under 4.00 thanks to better than average LOB% and HR/FB rates.
Jon Rauch – The return of his fastball velocity. In 2008, Rauch averaged 92.0 mph with his fastball and he posted an 8.29 K/9 and a 1.19 WHIP. Since then his velocity has declined each season. Last year he had an average fastball velocity of 89.4 mph which led to a 6.23 K/9 and a 1.35 WHIP. When you toss in a 4.85 ERA, that line is not worth anything close to the $3.5 million the Mets will be paying him in 2012.
Ramon Ramirez – Success with his changeup. Ramirez has been an asset in three-and-a-half of his last four years in the majors, the one exception being his time with the Red Sox in 2010 when his change went from a plus pitch to below average. A Francisco-Ramirez late inning combo looks to be quite strong, which makes the Rauch signing even more puzzling.
Johan Santana – It would truly be a gift if he could make 30 starts in 2012.
Josh Thole – A pitcher to vouch for him. We saw last year how much it worked with the media when Paulino's "take-charge attitude" beyond the plate was credited with helping Pelfrey when the former Mets' backup catcher made his debut last season. Of course, Pelfrey didn't do that great and Paulino was panned after the season by the brass for not executing the defensive game plan. But few in the media (mainstream or otherwise) complained about Paulino during the season. If Niese comes out and says how great Thole is beyond the plate for him, the complaints about catcher defense will disappear.
Andres Torres – Some highlight reel defensive plays. It's safe to say that the majority of the fan base was down on the last center fielder the club had, in no small part due to his defensive lapses. If Torres can make a few pretty plays early in the year with the Mets, it might buy him some goodwill – which he'll need if he can't rebound with the bat.
Justin Turner – Great success as a pinch-hitter. Last year the storyline developed that Turner was a great RBI man because his hot streak in May led to a bunch of hits with runners on base. This story could easily last another season if Turner becomes the team's primary RH bat off the bench and he comes through with some key hits. Turner seems like a good guy and I'm all for continuing this "RBI man" myth, especially if he builds upon it with some big hits in late innings off the bench.
David Wright – A 15.0 K% for the entire year. Everyone talks about Citi Field's dimensions spooking Wright and being the cause of his offensive deterioration since the park opened in 2009. But last year, when he first came off the DL, Wright had a 175 PA stretch where he posted a .327/.400/.529 line. He was able to do that because he had just 26 Ks in those 175 PA (14.9%). Citi may be the cause of his HR drop, but Wright can still be an offensive force if he just hits the ball. Generally, strikeouts are overrated for hitters but in the particular case of Wright – they are the big elephant in the room.
Sandy Alderson – Continued serenity to deal with all of the stuff that he faces with no money in a large market.
Terry Collins – The courage to demand something tangible from Dan Warthen.
Fred Wilpon – The wisdom that what's in the best interests of he and his entire family is to sell the Mets while he still owns some equity in the club. The Wilpons will have to sell at some point, whether that's now or in six months or even two years. There's simply no other ending in sight. It can't be fun to have your reputation trashed on a daily basis. It's going to be even less fun when the commissioner or the banks or Irving Picard forces a sale of your favorite toy to cover the family debts. Mr. Wilpon, the choice is clear. You can sell now and leave on your terms with your head held high or you can hold on and mimic Frank McCourt in a desperate attempt to keep your club and leave in disgrace in the not-too-distant future. Please choose the first option for the benefit of us all.
*****
Merry Christmas and Happy Holidays to all of the readers here at Mets360. I'm very happy that you come to our site and helped it grow like it has in the past 12 months. And I'd like to give an extra special thanks to loyal readers like Metsense, Bus, AJ, Steve S. and NormE who comment on so many of our stories. Your contributions add to the site and make us all better writers. And finally, thanks to Brandon, Charlie, Chris, Dan, Doug, Jim, Mike and Tanya for all of your articles.
*****
This is the third Christmas wishes column I've written. If you're curious about past gifts you can check them out at the following links: