My uncle, who drank liquor, smoked cigars and loved his trips to Atlantic City, never struck me as a particularly religious fellow. But he used to have a sign in his store which read: In God we trust, all others much pay cash. The stathead version of that credo is: In God we trust, all others must supply data. Which gets to the heart of the intangibles problem – how do we properly account for something which cannot be measured?
Some people throw up their hands and say that if you can't measure it, it doesn't exist. But I don't think that's the right way to go, any more than it's the right thing to assign mythical powers to the Jeff Francoeur and Paul Lo Duca types in the world.
I do think there's something to the intangibles that some players bring to the table. But I think that generally these things are vastly overrated and that they don't go to the players that the mainstream media would like you to believe. I really do not care if Player X is great at giving quotes to reporters. What does Player X do to make it a better work environment for his fellow teammates?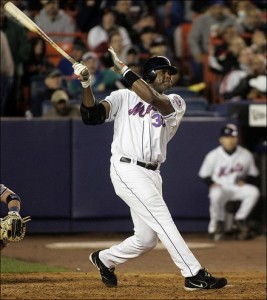 When I think of a Mets player who brought intangibles to the table, I immediately think of Cliff Floyd.
Floyd is famous for making David Wright carry his bags. Rumor has it that he would haze him in other ways, too. But Wright bonded with Floyd and considered him a mentor much more so than a tormentor. He credited Floyd with buying him dinner and suits and teaching him how to act when he first came up to the big leagues. Less celebrated in the press was Floyd's relationship with Jose Reyes, who he also took under his wing.
Like everybody else, I eat up these types of stories. The veteran teammate teaches hot shot rookie how to be a major leaguer. It takes a special star rookie to accept the teachings of a veteran. And it takes a special veteran to really have the rookie's best interests at heart. But again, how do we measure this?
With Floyd, we may actually have a way. In the last three full seasons of his career, Floyd played on three different teams. Each team played better the year Floyd was there than they did previously and they often played worse the year after he left. Here are the details:
| | | | |
| --- | --- | --- | --- |
| Club | Pre-Floyd Year | Floyd Year | Post-Floyd Year |
| Mets | 83-79 | 97-65 | 88-74 |
| Cubs | 66-96 | 85-77 | 97-64 |
| Rays | 66-96 | 97-65 | 84-78 |
| Total | 215-271 (.442) | 279-207 (.574) | 269-216 (.555) |
Of course, Floyd played with the Mets in the above "Pre-Floyd Year" and the Cubs actually improved after he left. But his last three teams improved over the previous season. That could easily be a coincidence or perhaps there was something that Floyd brought to the table those seasons that couldn't be replicated to the same degree after he left.
Of course, the knee-jerk response to this is if Floyd had these intangibles, why didn't they show up until the very end of his 17-year career? That's not easily answered. Perhaps he had to grow into this role. Perhaps when he spent time on the bench due to age rather than injury, he realized ways he could still help the club, even when he wasn't in the lineup.
Or maybe it's all just a coincidence.
I won't blame anyone who comes to that conclusion. But I know if I was running a team, one of the first people I would reach out to would be Floyd. I'd like to find out what he thought he did differently at the end of his career than at the beginning and why he felt like good teams followed him around from 2006-2008. I'd like to see if that was anything we could incorporate into the organization and I'd like to see if I could get Floyd involved as a coach somehow and somewhere.
We have all been in work environments where people's attitudes and personalities contributed to the atmosphere. Mostly, it's people who make you dread going to work. But there are people who are just a joy to be around and who can make a bad situation better or a good situation great.
It seems like good organizations should collect these types of people. And a really good baseball team would hire these guys as coaches. Because I am all for having a guy around whom everyone reacts to positively. But I'm less thrilled when that same guy puts up a sub-.700 OPS while soaking up a ton of at-bats.
Floyd put up a .731 OPS with the 2006 Mets, a .795 OPS with the 2007 Cubs and an .804 OPS with the 2008 Rays. So, he was helping out on the field, too. And that's the best kind of leader of all.