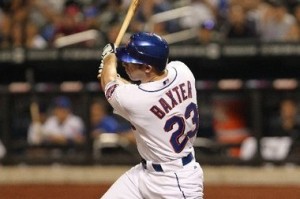 Now that Rick Ankiel has re-signed with the Nationals, the Mets have to turn their attention elsewhere for a player to compete for their fifth outfielder slot. Now attention will shift to even older veterans like Johnny Damon and Raul Ibanez. Here's an idea: Quit worrying and just give the job to Mike Baxter.
Now, you may be fine with the idea of having an internal candidate win the final outfield spot. But you may be wondering why Adam Loewen shouldn't get consideration. Loewen's a great story, following the same type of career path as Rick Ankiel. Both started out as pitchers and then reinvented themselves as hitters after wildness forced them from the mound. Last year in Triple-A, Loewen put up a .306/.377/.508 line in the Toronto system.
Loewen's 2011 is similar, although not quite as good, as Baxter's 2010 season in Triple-A. But there are two big differences. The first is strikeout rate, as Loewen had a 23.2 K% compared to a 14.1 K% for Baxter. The other is that Baxter put up his .391 wOBA with a .326 BABIP while Loewen needed a .384 BABIP to record his .382 wOBA.
The Mets signed Loewen three weeks after he was released by the Blue Jays. New York scooped up Baxter immediately after San Diego tried to sneak him through waivers last July. Baxter's 2011 was marred by a thumb injury during Spring Training. He did not come close to matching his 2010 season, but in his brief look with the Mets last year, Baxter posted a .791 OPS despite a .235 AVG.
Baxter also has the added advantage of being born in Queens. Ordinarily I would not place much value on that, but when we are talking about the fifth outfielder job on a team likely to finish below .500 – what's the harm in giving preference to the hometown kid?
I DON'T LIKE THOSE GUYS YOU ARE HANGING OUT WITH – If you look at how the Mets performed after the All-Star break last year, you'll see a rather frightening thing if you sort pitchers by their OPS allowed. The five pitchers with the highest mark allowed include a guy the team has already cut, three who are likely to start the season in Triple-A and Dillon Gee, a pitcher the team did not feel the need to upgrade from in the offseason. Here's the list:
.946 – Carrasco
.890 – Beato
.850 – Gee
.829 – Igarashi
.824 – Stinson
That $3.5 million that the club spent on Jon Rauch would have been much better spent on a pitcher to replace Gee in the rotation.
TOP PROSPECT AND AUTHOR, TOO – Last year Collin McHugh had a fine year at Double-A Binghamton, going 8-2 with a 2.89 ERA which earned him a spot in the Arizona Fall League. He has a wide variety of pitches and it's not impossible that he will make his big league debut in 2012. And now I find out that he's a blogger, too! You can check out McHugh's work at http://adayolderadaywiser.blogspot.com/. Yes, the title is a bit clunky but the writing at the site is quite good. His latest entry is a Spring Training preview. He describes ST as "one big chaotic wonderful experience." It's well worth checking out.
HOW WILL METS REPLACE LOST PRODUCTION? – Everyone is pessimistic because the Mets lost two of their top hitters from a year ago in Beltran and Reyes. But they also lost five other players who combined for the following numbers: 1330 ABs, 338 Hits, 19 HR and 143 RBIs. The biggest contributor to these mediocre numbers was Angel Pagan. The Mets don't have to match all of the production from SS and RF that they got a season ago. There are plenty of places where the offense can improve to offset the loss of their two All-Stars.
METS OPEN WITH HEALTHY DOSE OF NL EAST – The Mets play their first 12 games of the year versus NL East clubs, including six against the Atlanta Braves. Everyone talks about how improved the division is and the Mets will find out first hand the first two weeks of the season. In 2011 the Mets got off to a dismal start, going 5-13 to open the year. Hopefully Terry Collins will have his squad get off to a better start in 2012.
CONGRATULATIONS TO THE NEW YORK GIANTS! – Wes Welker could not make a difficult catch in the fourth quarter while Mario Manningham did. Because of that the Giants won the Super Bowl yesterday. It used to be that if you were a Mets fan you were likely to back the Jets in football. But those who started following sports in the mid-80s are likely to be Mets-Giants fans. As a Vikings fan, I had no real rooting interest in the game but I'm happy for my fellow Mets fans who also follow the New York football Giants.
Let's end with a quote from the movie Madagascar:
King Julian: Where are you giants from?
Alex the Lion: New York
King Julian: All hail the New York Giants!