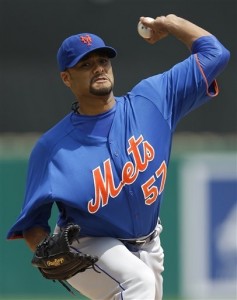 One of the biggest storylines heading into training camp for the Mets this spring for was the anticipated return of Johan Santana.
After another fine performance on Wednesday, Santana is turning heads for his ability to consistently throw strikes and remain sharp after recovering from major shoulder surgery. Santana has had no setbacks in his recovery thus far and is providing Mets' fans with some hope as they prepare to start the season.
After Wednesday's outing vs. the Cardinals in which he pitched six innings and allowing six hits and one walk with six strikeouts, Santana now sports an impressive 3.38 ERA through 13 1/3 innings this spring. In those 13 1/3 innings, Santana has allowed just 13 hits and four walks while striking out eight batters.
The fact that Santana is throwing every fifth day and showing incremental improvement each time out, has given the Mets a much needed shot in the arm. Santana's presence in the clubhouse cannot be understated. Santana's competitive spirit should rub off on the other players as the team tries to prove many of its doubters wrong. To see Santana progress this far when so many pundits had him dead and buried is a great sign that things may be taking a turn for the better.
Of course, I'm likely getting ahead of myself here and it is still too early to say with 100 percent certainty that the Santana of old is definitively back. However, nothing that has transpired this spring has changed the perception that Santana is on the right track. That track ultimately will lead to Opening Day and if Santana is indeed tabbed as the No. 1 starter.
All signs indicate that Santana is ready for the increased workload. Santana is working with his whole catalog of pitches this spring. His vintage changeup is rounding in shape and his velocity is not far off from the norm, as he is topping out at 90-91 MPH.
Mets' fans are prone to disappointment and harbor skepticism, but this spring Santana has been a breath of fresh air and is injecting Mets' fans with some hope. For the Mets to go anywhere this year they have to get a lot of innings (quality ones at that ) out of Santana.
With a staff full of question marks, Santana and his health could go a long way in stabilizing a shaky rotation. And with GM Sandy Alderson not getting any capable replacement arms in the off-season, it is even more paramount that Santana contributes this season.
We always knew Santana was a gamer and he is proving it this spring with his ability to overcome a major injury and regain a lot of that old magic we are accustomed to seeing out of him. Santana is your classic bulldog who never quits. Santana works tirelessly to hone his craft.
So, what was once a major question coming into camp has become one of the feel-good stories of the spring. The moral of the story is don't bet against Santana.
Follow me on Twitter @Stacdemon