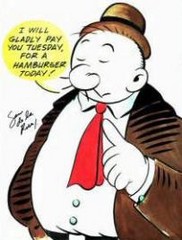 So it's finally over. Mets owner Fred "Wimpy" Wilpon will gladly pay Tuesday if you give him a hamburger today. But in this case "Tuesday" is three years from now and "hamburger" is the big business known as the New York Mets.
The Madoff clawback suit is settled with the Mets on the hook for $162 million but with the money not payable until three years from now. And if that wasn't enough of a win for the Wilpons, they likely will not have to pay that much money. You see, the Wilpons are available to receive money from the loser fund, getting back some cash they lost when Madoff's scam collapsed.
Originally, the owners were being sued for $1 billion dollars. That amount was later reduced to $386 million, as Judge Rakoff limited the amount of time that the trustee could look back to two years. However, the decision to limit the period to two years was one of many things that could have been reversed upon appeal.
It's hard to declare a decision that makes you liable for $162 million a win but I do not see how we can view this as anything else for the Mets' owners. The amount, while staggering, is not enough to force an immediate sale. And the time frame further makes it possible for the Wilpons to retain control of the team, which has been their goal all along.
The question becomes: How should we view this settlement for Irving Picard? Perhaps a billion dollars was never a likely sum for the trustee to recover but is a little over 16 percent of that a good amount? Initially, I feel that he should have held out for more but undoubtedly that's because I was hoping for this case to be a knockout blow.
The Wilpons have not been horrible owners but I think the majority of the fan base was hoping that the clawback lawsuit would be the straw that broke the camel's back and forced the family to sell. We have all seen how the Rangers have turned things around with new, well-funded ownership and had similar hopes with the Mets.
Instead, the fans have to accept the Wilpons retaining control of their team.
The only thing to do is now focus 100 percent on the product on the field. That may not be to the owners' best interests, either, as the Mets are 3-11-1 and have not won in their last nine games.
So, enjoy that hamburger today, Wimpy.