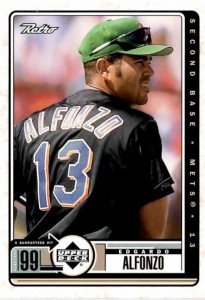 1999 UPPER DECK RETRO EDGARDO ALFONZO
I'm about 60% Irish, which means that I feel about 60% guilty for letting St. Patrick's Day pass without acknowledging it in card form.
So let this emerald-lidded shot of Edgardo Alfonzo on his 1999 Upper Deck Retro card serve that purpose.
I got my own green Mets' hat a year before this card was released. My wife and I had brought a couple of our Japanese friends out to Shea to see Hideo Nomo pitch in his Mets' debut. He went five innings and did not receive a decision in a 5-4 loss to the Devil Rays. But Kiyomi and Yuki were thrilled just to watch him play.
In the middle of the sixth inning, Yuki went to the concession stand to get a couple of hot dogs, and came back with a crisp new green hat. He handed it to me, and told me in halting English that it was a gift to thank me for taking him to the game.
I haven't seen Yuki for years, but every time I spot this slightly absurd hat hanging from a hook in my laundry room, I am reminded of his abundant kindness and generosity of spirit.
And really, what more could you ask of a hat?