In the past decade, the Mets minor league system has not been regarded with any kind of respect. Although the minor league system has produced David Wright, Jose Reyes, and several of the starters on this 2012 team, it has also seen many "top prospects" fizzle out or not reach their full potential. This lack of respect comes from prospects like Philip Humber, Fernando Martinez, Lastings Milledge, Mike Pelfrey, Yusmeiro Petit, and several others never living up to their hype.
However, over the past couple years the Mets minor league system has become deep as a lot of their prospects have started to produce results. The average fan knows about Jeurys Familia, Wilmer Flores, Matt Harvey, Jenrry Meija, Brandon Nimmo, and Zack Wheeler. These prospects are very promising, but they are not the only promising prospects in the system. These HYPE! Files will be a weekly guide to: 1. Shine light on prospects not getting their due respect and 2. Extinguish the hype on some prospects that will probably end up being mentioned in the same breath as Milledge and Petit.
Where's the hype?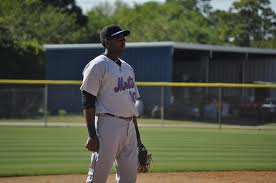 Aderlin Rodriguez, 3B: Here is a name that may be familiar to some readers. Although he hit 17 HRs in the South Atlantic League, Rodriguez had a disappointing year last year. His slash line of .221/.265/.372 combined with 106 Ks and only 29 BBs led to many Mets fans losing enthusiasm for him. Rodriguez free fell down people's top prospect lists coming into the year and many felt it was justified when he produced a slash line of .200/.370/.636 along with 3 HRs, 18 RBIs, 24 Ks and only 8 BBs in April.
Since April, his slash line reads .313/.376/.554 along with 11 HRs, 35 RBIs, 20 BBs, 42 Ks. This raises his season totals to .275/.339/.492 along with 14 HRs, 53 RBIs, 28 BBs, 66 Ks. Both of these stat lines are nothing to sneeze at. One can see that he is making more contact, striking out less, walking more, and driving the ball more. Also, he is hitting in a league and ballpark that is known to sap players' power. The fact he's crushing the ball in the Sally League at age 20 is impressive.
Looking at the major league club and the minor league system, one thing really missing from both is power. Rodriguez is the only true power prospect in this minor league system. Do not get me wrong, there are prospects with power in the system, but none that really make enough contact to be a starter. Flores' power is the only one who is comparable, but his power is more David Wright-esque.
Speaking of Wright, you might have noticed Rodriguez's position up there reads third base. As we all hope Wright is re-signed and retires a Met, this is a problem for Rodriguez's future position. While his defense was dreadful last year, he has improved upon it this year. After committing five errors in the first three games, Rodriguez had a string of 16 games without an error. However, even with the improvements many scouts do not believe he will stick at third base. Many doubt his range, reaction time, and hands while stating his arm is average. Kevin Goldstein had this to say in his article, "Future Shock: All Gap Team":
"Scouts have also noted defensive improvements, but whether or not he ends up being able to stay at third base is open to debate."
For these reasons, a move to first base may be in Rodriguez's future. Unfortunately, this may be a problem as well! If Ike Davis can stick around in the majors, Rodriguez may need another position change. For these reasons, I see him as a future left fielder if he sticks with the Mets.
Although Rodriguez is only 20 years old and has not played above A ball in his career, it is hard not to imagine him keeping this pace up and eventually playing in a Mets uniform. But this Mets fan dreams of a future clean-up hitter. How is that for hype?