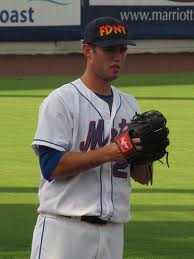 Darin Gorski is quietly turning in a fine season in Double-A.
You might recall that Gorski had a breakout year in 2011, where he went 11-3 with a 2.08 ERA. Many were skeptical because he was not highly touted and he dominated at an advanced age for his league. The conventional wisdom coming into this season was to see what Gorski did at Double-A before getting excited about him as a prospect.
Last night on the road, Gorski allowed just 1 ER in 7.2 IP, had 1 BB and 9 Ks and won for the third time in his last four games. After 24 games in Double-A, his ledger stands now at 9-7, with a 3.66 ERA at Binghamton. FWIW, Matt Harvey had a 4.53 ERA in 12 games at Binghamton while Zack Wheeler had a 3.26 ERA in 19 games at the same place.
In his last 10 games, Gorski has a 3.06 ERA with 58 Ks in 61.2 IP. He's finishing the season off strong. Gorski also got off to a good start on the year, as after six games he had a 2.27 ERA. The trouble came in the middle of the season. Actually, that's a bit of an overstatement. The trouble came in three games when Gorski's normal pattern was thrown off.
His first bad outing came on May 12th, seven days after a 6 IP, 1 ER performance. Gorski was lit up and surrendered 9 R and 10 H in 4.0 IP. His next appearance, also seven days later, came as a relief pitcher, as the Mets used Gorski to supplement a start that day by Jenrry Mejia. He gave up 3 ER in 4.1 IP in his only relief appearance of the season. His third appearance in this bad stretch was a 4.2 IP, 4 ER performance.
That's life in the minors, where virtually no one is guaranteed a regular turn in the rotation.
But in that 13-day stretch, Gorski allowed 15 ER in 13 IP. For grins and giggles, if we remove those 13 IP from Gorski's line, we see a guy with a 2.96 ERA in 124.2 innings. Not too shabby. Of course we cannot just remove stats we do not like from a player's overall stat line. So we need to use his 3.66 ERA.
Pitchers as a whole in the Eastern League have a 3.91 ERA this year, so Gorski is comfortably above-average in this regard. He's 10th in the league in innings (137.2) and 7th in strikeouts (109) and holds a very respectable 1.249 WHIP.
The biggest knock on Gorski is that he holds a 4.44 FIP. And the reason his FIP is so high is that Gorski is tied for fourth in the Eastern League with 19 HR allowed. Six times this year Gorski has allowed multiple homers in a game, including two games where he served up three gopher balls. From July 9th to August 15th, Gorski allowed a homer in seven straight games. In that span opponents cracked 12 HR in 39 IP.
But Gorski pitched at least six innings in all but one of those starts. And despite the homer parade, Gorski managed a 3.69 ERA in this stretch. Plus, in his last two starts, Gorski has gone 14.2 IP without a homer. Because most of the homers were solo shots, he survived a stretch that could have been crippling.
Last year Gorski was selected as having the best command among Mets' farmhands. But Gorski got off to a shaky start with walks in 2012. As late as July 22nd, he allowed 6 BB in 4 IP. However, in his last six starts, Gorski has permitted just nine walks in 39.2 innings.
For the season, Gorski has a 7.58 K/9 and a 3.20 BB/9. Among qualified pitchers that's the seventh-best strikeout rate and the 21st-best walk rate, right above Wheeler's 3.34 mark.
At this point I think it's safe to say that Gorski has passed the Double-A test. While he did not dominate the league like he did last year in Hi-A, no one was expecting him to do that and that certainly wasn't the barometer for 2012 being a successful season. Instead we wanted to see a guy who could take the ball on a regular basis and not be overmatched and Gorski has without a doubt met that challenge.
Gorski's overall numbers paint the picture of a guy who has succeeded at this level and is ready for the next step. And we know his numbers have improved as the season's gone on. While he has a 7.58 K/9 rate for the entire year, he has an 8.46 mark in his last 10. Earlier, we saw how his walks and homers allowed have gone down recently, too.
He is by no means a finished product and will likely need a full season of Triple-A under his belt next season before we can tell more about his major league chances. But we know he's a lefty who throws hard enough to succeed and those guys do not grow on trees.
Jonathon Niese is just one year older than Gorski and this is Niese's third full season in the majors. But it is not unheard of for lefties to take a little while longer to put things together and Mets fans should be bullish on Gorski's chances to be a contributor going forward. Because of the situation the Mets find themselves in – broke and needing to add talent via trades – Gorski may end up being used in a deal.
Part of the idea of developing a strong farm system is to have enough prospects where you can trade guys in a position of strength for a position of need. Hands down, the strongest position for the Mets is starting pitching, so we should prepare ourselves for a deal where they trade someone promising from their pitching ranks to address their needs in the outfield.
Gorski has to be viewed at this point as someone promising. His strong finish to 2012 should elevate him from a standard "C-level" prospect into at least a C+ or perhaps even a B- grade. By himself, Gorski will not fetch a big return. But it's easy to see him being part of a package to bring in the big hitter that the club so desperately needs.
And if Gorski is still in the system when the 2013 season rolls around, we should monitor his Triple-A outings closely. If he can continue to limit his walks and keep his homers at a respectable clip, Gorski will be a starting pitcher in the majors. Not bad for a seventh-round draft pick out of Kutztown University. Ryan Vogelsong is the only player in MLB history to make the majors from that school.
Vogelsong made his major league debut in 2000 but he did not put it all together and have success in the majors until 2011, at age 33. But in his last 54 games, covering 52 starts, Vogelsong is 24-14 with a 2.80 ERA. Hopefully Gorski can duplicate the success in the majors that his fellow Kutztown alum has enjoyed. It would be even better if he did it before age 33. Come join me on the bandwagon if you see success for Gorski in the majors sooner than that.