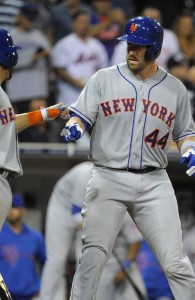 With Travis d'Arnaud being called up for good, and set to take the reigns as the everyday catcher for the Mets, it also means it could be the end of the road for John Buck–at least with the Mets.
Coming over in the R.A. Dickey trade, Buck was basically a throw in, and he has effectively done what he was brought in to do: hold the torch for d'Arnaud, manage the young staff and hit a few bombs in the process. While he won't hit for a consistent average, Buck is still nevertheless a valuable commodity—it just may not be for the Mets any longer.
The Mets are clearly planning ahead with their youth movement, as the club has now called up four significant rookies since the start of the year in d'Arnaud, Zack Wheeler, Juan Lagares and Wilmer Flores. It is imperative that d'Arnaud get comfortable with this staff as quickly as possible and work on his rapport with the pitchers. While he hasn't set the world on fire and is just 1-11 (although he has drawn 6 walks) in his first five games, d'Arnaud is the future at the position and he has to get his at-bats, as he will be a key cog for the squad for years to come.
That leaves Buck at a crossroads. Some argue that the Mets should keep him and have him be a mentor for d'Arnaud a little bit longer and help foster this developing staff. While there is some merit in that argument, Buck will likely be out the Mets' reach for a backup catcher next offseason. Unless Buck wants to take a pay cut (he'll be a free agent after the year), his days with the Mets seem numbered.
Like I said, he's done his job admirably and does have 15 home runs and 60 RBI's on the year. His veteran presence has also proved to be a calming influence on the youthful ball club.
However, with the post non-waiver trade deadline approaching, perhaps the Mets could ship Buck off to a contending team and get something, anything, in return.
The following teams could be in the market for a solid, veteran catcher and could be good trade partners with the Mets:
New York Yankees: It would be interesting to see the crosstown rivals make a deal, as the Yankees clearly lack offensive punch from the duo of Austin Romine and Chris Stewart at catcher. Buck could be useful in a surging offensive lineup, and if the Yankees want to go all in, Buck would be an upgrade at catcher.
Tampa Bay Rays: While the Rays have a good defensive catcher in Jose Molina, he does possess a measly .612 OPS. But with Molina doing a bang up job with the Rays' staff, this may never come to fruition.
Detroit Tigers: Once a potential trading partner when Bobby Parnell's name came up in trade discussions, perhaps they will be linked again—this time with Buck. With Alex Avila recently suffering a concussion, the catcher position is not that steady for the Tigers. While Avila is expected back soon, maybe they'll look to Buck as quality insurance. Again, Buck could fit in well with another loaded lineup. Also, the Tigers are in town this weekend. Maybe the Mets could show off Buck.
Oakland A's: With Derek Norris likely headed to the DL and John Jaso already on the shelf with an injury, this could be an ideal team for Buck to join. The A's currently are holding down the final wild card spot and are just 2 ½ game back of the Texas Rangers in the AL West. To stay in contention, the A's should be proactive and make a move to shore up their catching situation.
Now, I'm no expert in post-waiver deals, nor do I know what kind of return the Mets could get in trading Buck, but if Buck is not going to be part of this squad next year, perhaps you should get what you can for him. Besides, teams can feel desperate at this time of year and may tend to overpay. This is where Sandy Alderson's shrewdness could come in handy.
So, while we should all be appreciative of what Buck has given the Mets, he is not the future and his optimal landing spot should be with a contending team that could use his power and great play calling.
Buck gave the Mets all the bang he could; perhaps it's time for another team to get the best bang for their Buck.