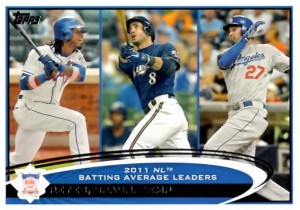 2012 TOPPS NL BATTING AVERAGE LEADERS (JOSE REYES)
From my perch on the kitchen floor gazing up at a large-knobbed black-and-white Sylvania, I saw Armstrong walk on the moon.
In the spring of 1986 I spied Halley's comet, carrying with it the dim portent of a Mets' World Series victory that October.
I watched the Berlin wall crumble. I marked the turn of the second millennium.
But there is one thing that I'd never had the privilege of witnessing until late last week: a National League Batting Leaders card that contained a Mets' player at the top of the list.
The closest I had come to date was the 1970 Topps NL Batting Leaders card , which presents that glorious tableau of Cleon Jones and his .340 average sharing space with the number 1 and 2 hitters in 1969: Pete Rose and Roberto Clemente. While John Olerud finished second in the 1998 batting race, Topps opted not to print league leader cards in their regular issue 1999 set.
So, even if you're not a collector, I'd suggest that it is your duty as a Mets' fan to head over to eBay and drop a few quarters on a copy of this 2012 card.
Make your peace with the bittersweet fact that Jose Reyes is gone from us, put the card in a neat plastic holder, and save a space on a shelf and in your memory for this signal event…