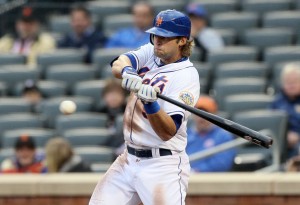 The Mets need outfield help. You, I and the family pet all know this much. It's so obviously evident, that the Mets should post a Craigslist ad asking for outfield help!
One current Mets' outfielder who stands a decent chance of cracking the starting rotation is Kirk Nieuwenhuis.
Scott Hairston and Andres Torres are likely gone (especially Torres), as they are soon to be free agents. We are also in limbo as to what to do with Jason Bay. Will he get cut; will he start (hopefully not) or will he be permanently glued to the bench in the final year of his contract? Mike Baxter is a good reserve and pinch-hitting extraordinaire but nothing more. And lastly, it's readily apparent that the Mets want nothing to do with Lucas Duda in the outfield anymore.
So, that leaves Nieuwenhuis as perhaps the only capable outfielder in the system who could be of any use to the Mets in 2013. (The Mets have also stated their desire to move Jordany Valdespin to utility infield spot)
However, some questions still arise concerning the future of Nieuwenhuis. Where exactly do you put him in the outfield? Do you take a risk and avoid all trade overtures and free agent possibilities and pencil in Nieuwenhuis as your everyday center fielder? After all, the Mets don't really have other internal possibilities for center field. Outside of Matt den Dekker, who is still very raw and in need of more seasoning, you may have to put Nieuwenhuis in center by default.
Or do you perhaps put Nieuwenhuis in either left or right field and hope you strike gold in acquiring a legit center fielder before opening day?
Either way, Nieuwenhuis is an enigma and his future role with this squad is murky.
Nieuwenhuis enjoyed a fine start upon being called up in early April and had Mets' fans excited about how he played the game. Nieuwenhuis is your ultimate gamer. He plays with a balls-to the-wall attitude and that's something Mets' fans appreciate.
Is that enough though? While Nieuwenhuis plays the field well and has above-average speed, his batting skills still leave a lot to be desired.
For the first two months of the season, Nieuwenhuis was looking like a capable hitter and as late as June 3 he was batting .301. However, it went all downhill from there. Opposing pitchers caught up with Nieuwenhuis and he was exposed. Nieuwenhuis had trouble catching up with good fastballs and was continuously chasing after too many pitches. After striking out three times and lowering his batting average to .252 in a game at Arizona on July 28, Nieuwenhuis was optioned to Buffalo the next day.
Things did not get much better for Nieuwenhuis in Buffalo, as his season was cut short in late August when he went down with a partially torn plantar fascia in his right foot. The good news is that he did not need surgery. The bad news is that Nieuwenhuis simply can never stay healthy and is too strikeout prone to most fans' liking.
It's really doubtful that the Mets will completely overhaul the outfield (meaning replace the whole outfield), so someone on the current Mets roster has to be counted on.
Nieuwenhuis will be given his shot, but he has to work hard in the offseason and have a good spring training in order to restore the faith some have in him. It wasn't that long along we were singing the praises of this gritty ballplayer, but his flaws are too hard to ignore. Nieuwenhuis has to make a lot of adjustments before he can become a trusted member of the outfield.
Nieuwenhuis is a big wild card for the Mets. What do you they have in him? Is he a starter or a fourth outfielder? This is something the Mets will have to answer and weigh very carefully in the offseason.
Follow me on Twitter @Stacdemon