Let's say the Reds called up the Mets and offered Drew Stubbs straight up for Lucas Duda – should the Mets make that deal? Stubbs had a poor year last year but he's a center fielder who plays pretty good defense and who can hit the ball over the fence. While he strikes out an alarming number of times, his overall contributions as a ballplayer still have some value. Last year he posted a 1.3 fWAR, compared to the (-1.1) fWAR that Duda notched in about 100 fewer PA.
Duda is likely a better hitter than he showed last year but it seems pretty clear that he will never be a truly valuable player as long as he is forced to be an outfielder, which seems to be his destiny on the Mets. Throw in the fact that Stubbs is a righty hitter to balance the lineup and that he is likely to not make a great deal of money in his first year of arbitration and it probably becomes a no-brainer for Sandy Alderson to make this deal.
With Joey Votto entrenched at first base, the odds of Cincinnati offering Stubbs for Duda are about nil. But the idea of this article is not to drum up a campaign to trade for Stubbs. Instead it's to recognize that the Mets have a player in the farm system who's pretty darn similar to Stubbs and if it makes sense to trade for Stubbs than it makes sense to promote an in-house option who profiles similarly.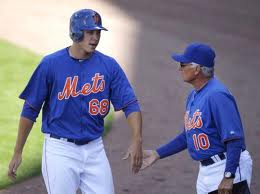 Matt Den Dekker is a pretty good comp for Stubbs. Den Dekker is probably a better defender although he likely does not have as much raw power. But if you were to get a scouting report on Den Dekker, it would be pretty similar to what was said about Stubbs in the first graph – good defense, can hit the ball over the fence, strikes out an alarming number of times.
Of course, most people reading this right now are shaking their heads, saying there's no way that Den Dekker is ready. In his first exposure to Triple-A last year after a mid-year promotion, he put up a .220/.256/.373 line in 317 PA – hardly numbers that scream for a starting job in the majors. Of course, Den Dekker did a similar thing the previous year at Double-A, where he put up disappointing numbers in his first exposure to the level.
Den Dekker returned to Binghamton at the start of 2012 and hit the cover off the ball. He posted a .960 OPS in 268 PA. If we combine what he did at Double-A in 2011 and 2012, we come up with a .284/.351/.490 line in 582 PA.
Let's pretend that the Mets did not promote Den Dekker in either 2011 or 2012 and that his combined '11-'12 numbers at Double-A were numbers he posted in a full season at the level last year. Would you be so hesitant to give him a shot in the majors in 2013?
According to Jeff Sackmann's MLE calculator, Den Dekker's combined Double-A line in Binghamton translates to a .215/.272/.353 line with 13 HR in 526 ABs in the majors with the Mets. Last year Stubbs produced a .213/.277/.333 line with 14 HR in 493 ABs with the Reds.
Seemingly, it comes down to two things with Den Dekker – how good you think he'll be defensively and how much contact he'll be able to make against MLB pitchers.
It's hard to judge minor league defensive numbers but the scouting reports are all positive on his defense. I think there's little doubt that he would instantly become the best defensive player on the team if he was promoted to the Mets. But is he Stubbs-level good (6.8 UZR last year, sixth-best among full-time MLB CFers) or is he closer to Michael Bourn (22.4 UZR)? Right now we can only speculate.
It's easier to be pessimistic about his chances to consistently hit MLB pitching. Last year in Triple-A he had a 28.4 K%, tied for the eighth-worst mark in the International League among players with at least 250 PA. For a comparison, old friend Val Pascucci had a 31.2 K% in Buffalo last year.
While it's safe to predict a K% over 25 percent for Den Dekker in the majors, it's what he does in his other trips to the plate that would determine his success. He had a .429 BABIP in Double-A last year, the top mark in the loop. However, his .279 BABIP in Triple-A was 116th out of 138 players with 250 PA. In other words, he was pretty unlucky in Buffalo.
Does he really need to go back to Triple-A and have his luck even out before he's worthy of a promotion to Queens? Especially since he'll be playing in the hitter's paradise known as the Pacific Coast League? Do you really expect Den Dekker to go to Las Vegas and not hit well? Then seriously, what's the point of having him start the year in Triple-A?
Den Dekker turned 25 last August. He was a four-year player at the University of Florida, a major Division I school. He's an older player, one who has never (to my knowledge) been dogged with confidence issues like Duda.
The Mets should be bold and promote Den Dekker to the majors and tell him it's okay if he hits .215 as long as he catches every ball and hits the occasional HR. All he has to do is turn in the 2012 version of Stubbs at the plate to be an upgrade for the team. And they don't even have to trade Duda to make this possible.
I don't expect this to happen. Instead, we'll see Den Dekker – who does not have to be put on the 40-man this winter – in Las Vegas hitting up a storm. And then people will say with a straight face that it was necessary experience for him, ignoring that his luck on BABIP was due to regress in a positive direction and that his offensive numbers in the PCL would experience a bounce compared to the International League.
What I expect that we'll see is Kirk Nieuwenhuis in CF for the Mets, even though Nieuwenhuis has the exact same contact issues that Den Dekker does and Nieuwenhuis comes without the possibility of Gold Glove-level defense. The scouting reports said that Nieuwenhuis was stretched defensively in center and was better suited for a corner. To the naked eye, Nieuwenhuis' defense looked okay and he had a (-2) DRS and a (-1.2) UZR in about half a season's worth of play in the outfield in New York.
Last year with the Mets, Nieuwenhuis put up a .358 BABIP and a .691 OPS. What happens when he posts a .300 BABIP? Nieuwenhuis was lucky last year in the majors and was barely an MLB-quality player. But he'll get every chance to win a job in the majors in 2013 because he had a hot April in 2012. From May 1st until he was sent down, Nieuwenhuis had a .319 BABIP, a .624 OPS and a 32.3 K%.
Whatever success the 2013 Mets achieve is likely due to good starting pitching. You can help pitching with a strong defense and/or strong hitting. It's my belief that Den Dekker's defensive advantage is likely to be more of a strength for the 2013 Mets than Nieuwenhuis' offensive advantage, assuming there even is one. Both Nieuwenhuis and Den Dekker are LHB and recall that the latter's Double-A MLE was for a .625 OPS while the former posted a .624 OPS over his final 226 PA.