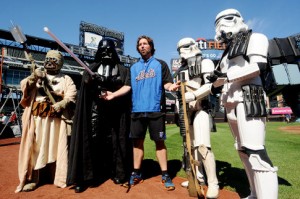 Generally speaking, the less said about the 2011 Mets pitching staff, the better. Despite enjoying good health among their starting pitchers, as well as playing in a pitcher's park, they finished 13th in the National League in ERA. Yet Dan Warthen still has a job. But I'm not here to talk about the power of incriminating photos. Instead, let's talk about R.A. Dickey.
By now, the Dickey tale has been told many times, yet it still seems incredible. It's difficult to pick out the most unlikely aspect of his story. Is it:
A. The fact that he has no Ulnar Collateral Ligament (roughly 15% of the population does not) yet is still able to pitch in the majors?
B. The fact that he was diagnosed without the UCL when a doctor noticed his arm hanging funny in a picture and prompted the Rangers (the team that drafted him and was ready to sign him to a big contract) to examine him further?
C. That he reinvented himself as a knuckleball pitcher? Most MLB players have toyed with a knuckler at some point in their career. Yet very few actually utilize the pitch on a regular basis.
D. That after finally signing a multi-year contract and cashing in on his talents, Dickey is risking having his 2012 contract voided by hiking Mt. Kilimanjaro to raise money to combat human trafficking in India?
I'd say these were all excellent choices but if pressed for an answer I guess I would go with B. That is until I realized that Dickey had such a strong season with the Mets in 2011 – a team-best 208.2 IP, a SP-best 3.28 ERA and a 2.48 K/BB ratio – despite having his knuckleball be a below-average pitch.
That is pretty remarkable.
Dickey last year threw his knuckleball 75.3% of the time, yet his Pitch Type Linear Weights show that his knuckler was worth -7.4 for the year. For a comparison, Dickey's knuckler rated 10.8 in 2010. Dickey was successful last year because his fastball was so good. It's a strange thing to say, as Dickey's average fastball speed of 84.4 ranked 93rd out of 94 pitchers qualified pitchers on the FanGraphs leaderboards. But his wFB rating of 11.1 was the 14th-best in the majors last year.
If we scale things to 100 pitches, we see Dickey's knuckler was only -0.31 — not a huge number. But still, it's got to be a little surprising for a successful pitcher to rely so much on one pitch and have that pitch not be in positive numbers, much less dominating. For example, Mariano Rivera's cutter had a wCT of 12.2 and a wCT/C of 1.54, which is more in line with what I would have expected for Dickey's knuckler.
Of course, the knuckleball hardly follows the rules of other pitches. That's why it's so hard to hit and so hard to forecast the guys who throw it. If we look at Tim Wakefield, we see that his knuckleball has been a below average pitch the past three seasons, too. But Wakefield has been lousy the past two years and even three seasons ago, he was not as good as Dickey was last year.
After his breakout year in 2010, none of the forecast systems projected Dickey to have another strong season in 2011. But he did. And I expect we'll see the same pattern here again this year. The Bill James projections are out and it forecasts a 3.89 ERA from Dickey, significantly above last year's 3.28 mark. ZiPS has him at 3.77 – and that was with 2011's Citi Field dimensions.
Regardless, I look forward to Dickey completing his Mt. Kilimanjaro hike without incident and providing strong pitching for the Mets again in 2012. And at this point, I expect him to add another wrinkle to what has already been an extraordinary career. Last year we found out that Dickey was a huge Star Wars fan and it will be tough to top that.
But if we find out that he does a killer Howard Megdal impersonation, I think that will work.