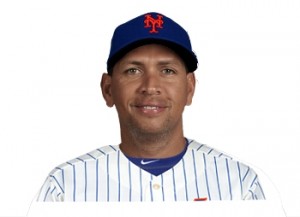 In 2000, the Mets lost out on what, at the time, looked like a future Hall of Fame player in Alex Rodriguez. Rodriguez was coming off a year in which he hit .316 with 41 home runs and 132 RBI's. The deal the Mets offered Rodriguez would have been around ten years. From 2001-2011, Rodriguez hit around .300 with 440 home runs and just under 1300 RBI's. He also won three MVP's, five Silver Slugger Awards, two Gold Glove Awards, and made an All Star Game appearance each year, except for one year. In other words, the Mets seemed to have really screwed up on not signing him… until 2009.
In 2009, reports came out that Rodriguez had used PED's during his time on the Rangers, the team that outbid the Mets for Rodriguez. This report contradicted an interview Rodriguez had two years prior with 60 Minutes' Katie Couric in which he was asked "For the record, have you ever used steroids, human growth hormone or any other performance-enhancing substance?" Rodriguez replied with the simple one word answer of "no," and the world believed him. But when Rodriguez was caught in 2009, he once again came out to the world about his use of human growth hormones, but this time he apologized.
I recently re-watched his 2009 press conference. During the press conference, Rodriguez spent four minutes and 29 seconds reading off a script. He only looked up 33 times, the longest was 1.3 seconds and the second longest was 0.7 seconds. Clearly, Rodriguez was not apologizing from the heart, but he was doing what he thought would make up for everything he had done. In his "apology", Rodriguez said things such as:
"When I entered the pro's as a young kid, in the Major Leagues, I was 18 years old, right out of High School. I thought I knew everything, and I clearly didn't."
"Like everyone else, I have made mistakes in my life. The only way to handle them is to learn from them, and move forward."
"One thing I know is for sure… that baseball is a lot bigger than Alex Rodriguez."
He finished the apology by saying "and to my teammates," but didn't complete that sentence. He just smiled and moved around awkwardly for 44 seconds before being asked questions. During the question portion of the press conference, Rodriguez told the media and the world to judge him from not what he has done in his past, but from what he will do in the future and how he will become a better person.
Since that day in 2009, Rodriguez was caught using PED's once again. He denied the accusations, got suspended for 211 games, went to court to appeal that suspension, was suspended again from the MLB for the entire 2014 season as well as playoffs, and watched as Tony Bosch went on 60 Minutes and admit to injecting PED's into his body. And during that time, Rodriguez hit just a mere .273 with 101 home runs and 363 RBI's.
But this is only the beginning of what may still come. Rodriguez is allowed to play during Spring Training, as well as for the remaining three years of his contract when his suspension is served. But the question that now hangs around the once iconic figure is whether or not he will come back, and if he does will he be the same? It would probably be the best thing for Rodriguez if he were to come back. He has the entire year of 2014 to get into the best shape of his life, and it would be quite the slap in the face to the MLB, let alone Bud Selig, if he comes back. Commissioner Selig has already announced his retirement for 2016, and he has definitely put a stamp on his legacy now that Rodriguez is off the table for 2014, and possibly forever. However, if Rodriguez were to come back in 2015, Selig would end up retiring with his biggest nemesis still playing the game.
Just to make matters even worse, Rodriguez announced Monday, January 13, that he will be suing both Major League Baseball, and the MLB Players' Association as an attempt to overturn the ban. The MLB Players' Association has been behind Rodriguez since day one of the conviction, but when he threatened to take the case to federal court, they immediately jumped off board, leaving him by himself. Of course, they did defend him late Sunday evening when they announced their frustration with Major League Baseball for letting Tony Bosch go on 60 Minutes and admit to personally injecting Rodriguez with PED's (and in a bathroom stall of all places), but this was clearly not enough to satisfy the big ego of Rodriguez, so he will still be suing them. There is one benefit to this, however, as it will bring Major League Baseball and the MLB Players' Association closer together. The two parties have been constantly bickering about new rules such as replay in the MLB, as well as the prohibiting of runners and catchers having a collision at home plate.
So is suing these two parties a good move for Rodriguez? Not according to CNN's Lateef Mungin and Steve Almasine. On Tuesday, they wrote an article which mentioned the number one flaw in suing the MLB, which is that it will give a chance for more of his doping secrets to be exposed to the public eye. Their idea makes sense, as now Rodriguez will have nobody behind him to defend him other than his own personal lawyers. Therefore, it will give people such as Tony Bosch a chance to talk about more of Rodriguez' secrets.
On January 11, Jon Heyman of CBS Sports wrote that "Alex Rodriguez's downfall is one of the saddest baseball stories ever told"**, as player once known as the Greatest Short Stop of All Time has officially gone down in flames. He has now been caught taking PED's twice, managed to get beneath the skin of the Commissioner of Baseball and fans everywhere, and has thrown away all hopes of being a Hall of Famer. The once innocent 18-year-old phenomenon has officially turned into one of the most hated men in the history of Major League Baseball, and still does not know what he is doing to himself, his family, and the people around him.
Nobody knows what will come of Rodriguez in the next couple years. But one thing is certain… the Mets definitely dodged a bullet by letting the Rangers outbid them for the 25-year-old superstar talent from Washington Heights, New York who grew up not a Mariners fan, not a Rangers fan, not even a Yankees fan… but a New York Mets fan with Keith Hernandez as his idol.

Loading ...