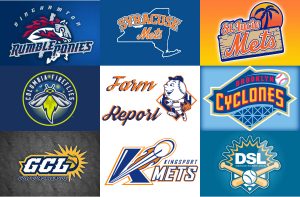 There has been considerable talk this season and offseason about the idea that there are too many minor league levels and that baseball might consider getting rid of some of them.  Juggling the names, I have to admit that the number of short season leagues seems a bit high and the number of players a team carries who have no shot at an MLB future is also very high.  I grade players from A+ to C and I find that the Mets and most teams have a surprisingly high number of C and C+ rated players lingering in the minors for no reason.  For those keeping score, I'm including my grading ranks below:
A+: Prospect has a relatively good chance of becoming an All Star in the majors
A: Prospect has a relatively good chance of being an impact starter in the majors
A-: Prospect has a relatively good chance of starting in the majors
B+: Prospect has a relatively good chance of playing multiple MLB seasons
B: Prospect has a relatively good chance of reaching the MLB as a backup
B-: Prospect has a relatively good chance of reaching the MLB
C+: Prospect has an outside chance of reaching the MLB
C: Prospect is unlikely to ever reach the MLB
This month I've done an exercise, in which I've adjusted the Mets' prospect depth charts as if the New York Penn and Gulf Coast leagues are no longer in existence. I'll review some of the key names who now find themselves assigned at each level and then get into the broader impact to the organization. Lastly, I'll review my overall thoughts after going through this entire exercise.
AAA: Syracuse Mets
There are little to no functional changes to the highest level of the Mets system.  You have a solid corp of starting pitchers vying to be backend starters, a handful of relievers who are looking for their chance in the majors and Andres Gimenez (the impactful prospect).  Sure, I'm ignoring Ali Sanchez, Luis Carpio and a few others who could reach the majors but the basic idea is that the players who would be in AAA for the Mets (with seven minor league teams) remains the same. One could argue this proves the upper minors for the Mets are devoid of talent but truthfully most teams would see little change to AAA other than a winnowing of the C and C+ ranked prospects who serve as AAA reserves.
AA: Binghamton Rumble Ponies
The weakest overall level in the Met system, the Rumble Ponies will still boast a few very promising players (Thomas Szapucki, Franklyn Kilome and Wagner Lagrange) while also carrying the fewest Top 50 players of any level.  At this level of the minors you begin to see an impact to the condensation of teams but it isn't the one you'd expect.  Here I foresee the Mets sliding up unproven talent that may not be ready for the level in order to protect the more valuable bigger names in leagues below.
A+: St. Lucie Mets
Based on the makeup of the Mets system the Advanced A squad gets a very high number of the Mets Top 50 players.  Nobody will be surprised to see Ronny Mauricio, Mark Vientos, Jordan Humphreys or Shervyen Newton regardless of if there are five or seven teams.  What this exercise does is force the escalation of college players after their short season debut league regardless of their immediate success.  This means that Jake Mangum, Scott Ota and others wind up joining Luke Ritter.  This "fast-tracking" by age is likely the biggest notable change that we see so far. With seven teams you have room to promote highschool/prep school players to Kingsport or Brooklyn, leaving Columbia free for the collegiate names who had less success in Brooklyn. Now, it becomes a numbers game and age would force a lot of players to skip Low-A regardless.
A: Columbia Fireflies
While we are talking about escalation we should look at the number of Top 20 prospects who are jammed into the first full season level. Francisco Alvarez, Brett Baty, Matthew Allan, Josh Wolf, Anderson Hernandez and others all find themselves sharing the same field.  This team is so jammed with talent it almost hurts but without Kingsport and/or Brooklyn, there is no where else to put them.  This would greatly escalate the timeline on a number of top prospects who will suddenly find themselves thrust, regardless of their debut, into full season baseball in their second seasons. This could get great players to the majors quicker but it could also rush player development and breakdown players who aren't ready.  Myself, I want almost all those players to start in Columbia anyway.
Rookie: Gulf Coast Mets
Five players ranked in my Top 50 wind up either repeating or starting in the GCL.  Some of these players were in the GCL last season and some were in the DSL but for a few, this means actually delaying their progress. If the Mets still had Kingsport, Freddy Valdez and Ronny Rincones are no brainers to begin in that league.  If the Mets also had Brooklyn, I'd likely send Sebastian Espino on there.  The other half of the issue with this condensation is that you will wind up with no room to put the players drafted in the 2020 amateur draft.  It becomes extremely crowded down in the rookie leagues in a hurry. Perhaps this would just mean that teams don't select as many prospects each year.
Overall Thoughts:
I maintain that baseball could likely get rid of either the Advanced Rookie League or the Short Season A league and not greatly impact the development process.  In this exercise, when you remove both, you wind up with no good place to put prospects very quickly.  While I understand that the Amateur Draft may be too deep, I think there is a real value in having (at least) two levels of short season baseball to assign players to.  This way you have a league for newly drafted high schoolers and Dominican Summer League graduates and another for collegiate draftees and those high schoolers who are not yet ready for full season baseball after their first year's.
Takeaways
1. Removing the APP and NYP leagues from the minors would most directly impact each year's draft class.
2. It would compress the timeline of player development and force teams to shed career minor leaguers.
3. The changes don't have much impact on the upper levels of the Mets' organization.