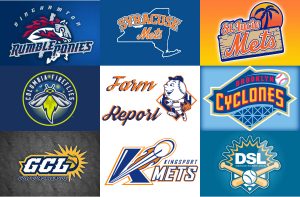 The Mets have quite a few outfielders they would like to have in their lineup in 2020. Michael Conforto and Brandon Nimmo will likely find playing time on a daily basis, Yoenis Cespedes would get to start if he were ever healthy, J.D. Davis' bat proved to be enough of an asset to ignore his defensive shortcomings and, with Pete Alonso entrenched at first, Dominic Smith could see playing time in left field again. The only problem is that not a single one of those players is an ideal center fielder.
With the departure of the defensive dynamo Juan Lagares the Mets were left with a vital vacancy on their team. While Nimmo and Conforto might be able to just about cover the position, neither is an ideal candidate for the role and the Mets are left with too many corner outfielders and nobody to step up in center.
All of this leads to the Mets trading a couple of prospects for a $1.9 Million Dollar 1.2 WAR center fielder with a career .227 batting average. Jake Marisnick is not a bad player, but no team should ever "need" to trade for a fourth outfielder. Teams are supposed to stockpile the key defensive positions so that such trades are never necessary. Based on the Mets draft history, it looks like that might be something Sandy Alderson forgot.
A team should be drafting players who are capable of fielding the hardest to find positions. That means you should see teams stocked with center fielders, catchers and shortstops. Let's look back at some of the early (Top 10 Rounds or so) defensive depth draft picks since 2010:
2019: The Mets 2019 draft has been covered in depth. People are aware that the Mets intentionally "gamed" the system in drafting three first round talents and seven college seniors with their top 10 picks. Even so, this draft had the Mets pick up a number of defensive outfielders, a move that made sense with the relative depth they already had at shortstop.
● Jake Mangum, OF – The Mets took the switch hitter in the fourth round and sent him to play center for Brooklyn. He wasn't great but will get a chance to bounce back for Port St. Lucie in 2020.
● Zach Ashford, CF – This college outfielder actually had a surprisingly good debut year and may find himself playing center in Binghamton to start the 2020 season. Problem is… he's already become a corner outfielder.
● Antoine Duplantis, CF – Technically a 12th round pick, Duplantis got more money than most of the 7th through 10th rounders. He's looking at playing for either Columbia or St. Lucie in 2020.
2018: Thanks to a trade in the 2018 offseason the potential star center fielder the Mets drafted has gone on to the Seatle organization. With a catcher and shortstop also part of the top 10 picks it seems the Mets were doing their diligence in signing defensive depth.
● Jarred Kelenic, OF – Traded for an aging past-his-prime second baseman and a closer who flamed out in New York City's limelight. He was not drafted for his defense but could hold onto center field thanks to his physical ability.
● Nick Meyer, C – The mustache is great but his bat will never make this sixth round pick viable in the majors.
● Manny Rodriguez, SS – The college shortstop has an okay year in Port St. Lucie and could prove to be a backup infielder down the line.
2017: The Mets drafted seven pitchers with their first ten picks and picked up a shortstop (who was quickly moved to third) and two corner outfielders with their non-pitcher picks.
2016: The Mets did grab two shortstops and an outfielder in their Top 10 picks but have since traded away their Top 2 picks. The good news is that Pete Alonso was also drafted this year.
● Michael Paez, SS – Briefly showed signs of being a legitimate prospect but he's no longer a shortstop.
● Colby Woodmansee, SS – An okay Brooklyn debut quickly bottomed out. Woodmansee is currently listed as "released".
● Gene Cone, OF – While he doesn't exclusively play center he has played significant time there in each of his minor league seasons. Unfortunately, Cone has a career OPS of .575 which will never make him viable.
2015: The Mets were without a first round pick in 2015 and did select several players in the defensive need positions but two of the three were more offensively minded picks.
● Desmond Lindsay, CF – If he were a first round pick, he'd be the worst one of the last decade. A disappointment all across the board, Lindsay was hurt… again… in 2019.
● Patrick Mazeika, C – He'll be in AAA for 2020 but is the farthest thing from a defensive asset on this list. If the Mets lose Ramos and want a bat at the catcher position, he might get a shot.
● Kevin Kaczmarski, OF – I had pencilled Kaczmarski into the fourth outfielder spot until the Mets made their trade. He has the bat for the role but is more of a corner outfielder.
2014: If Ramos had panned out this would look a little better but it seems that the Mets felt they had drafted enough outfield depth in 2013 to justify drafting none in 2014.
● Milton Ramos, SS – People thought highly of the Met's 3rd round pick but he never really seemed to break through. He never played above Low A and is currently released.
● Tyler Moore, C – A catcher who couldn't hit at all. I watched him play in Brooklyn and wondered why the Mets saw him as a sixth round talent.
2013: The year the Mets seemed determined to draft defensive depth. One out of the four players they drafted this way panned out, which isn't a terrible success rate.
● Ivan Wilson, OF – A third round pick that never proved his scouting reports correct. He retired after a flailing season at Low A in 2016.
● Champ Stuart, OF – Stuart is exactly the type of player that teams are supposed to stockpile, but Stuart hasn't panned out. The speedy outfielder has shown glimpses of being an MLB caliber fourth outfielder but he's fallen short and victim to injury.
● Patrick Biondi, CF – A solid depth pick when it was made. Biondi profiled as a high contact/high speed outfielder with good defense. His numbers in the minors never matched the hopeful scouting reports. He last played with AA Binghamton in 2018.
● Luis Guillorme, SS – One of the better late Top 10 picks of the past 10 seasons. Guillorme is currently serving as the team's middle infield depth.
2012: If you ignore the fact that the Met's #1 pick was an absolute bust, the Mets did draft two viable defensive players in the backend of their Top 10 picks.
● Gavin Cecchini, 2B/SS – The worst first round pick the Mets have made in the past 10 years. There were better players with higher ceilings and I'm not sure Cecchini can even play shortstop anymore.
● Kevin Plawecki, C – Wasn't considered a defensive catcher but was good enough to play in the majors for a while.
● Matt Reynolds, SS – Ironically, drafted as a third baseman. Became a defensive replacement option but was ultimately let go because of the numbers game. He may have been promoted to the majors too quickly.
● Brandon Kaupe, SS – The Hawaii native never panned out or performed above the Kingsport level. Currently listed as released.
● Tomas Nido, C – Nido has developed into a defensive catcher and has already become a favorite of certain starting pitchers. Interestingly he was not drafted for his defense but certainly proved to be gifted in that capacity.
2011:
● Brandon Nimmo, CF – The Mets weren't sure what Nimmo would develop into and there was certainly hope he could play center field when he was drafted but Nimmo has developed into more of a corner infielder.
● Danny Muno, SS – A player who showed a lot of promise early on, Muno was eventually shifted to third and wound up leaving the Mets in 2016. Mets gave him a cup of coffee promotion in 2015.
2010:
● Blake Forsythe, C – After four years with the Mets with nothing standing out about his game, Forsythe found his way out of the organization. He last played professional baseball in 2015.
● Cory Vaughn, CF – The son of Greg Vaughn never lived up to his namesake and last played in 2015 for the Reno Aces.
● Matt Den Dekker, CF – Played for the Mets but was eventually the victim of the numbers game. He would have likely been an acceptable fourth outfielder if he were still with the team.
In the end, the Mets have not drafted for a ton of defensive depth over the past decade. Because of this they were left with a choice between Kaczmarski, Sam Haggerty and signing/trading for someone else. The Mets should be using Marisnick on a daily basis even if the outfielder only starts a handful of games. Here's hoping that the trade works out for them.