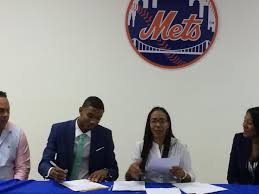 The Mets have a long history of making a splash in the international free agent market. People paid attention when the Mets signed Amed Rosario for $1.75 Million in 2012. In 2015 we remember hearing about the $1.2 Million the mets gave Andres Gimenez. Ronny Mauricio's $2.1 Million dollar signing bonus was the big news out of the 2017 season. We've heard about Freddy Valdez and 2019 breakout sensation Francisco Alvarez ($2.9 Million). We haven't talked much about the seventeen (17) players the Mets signed out of the 2019 international signing pool. That changes today.
The Mets gave Alexander Ramirez a $2.05 Million dollar signing bonus, making him the third highest paid international signee in Mets history. Ranked 26th in the Top 30 international prospects, Ramirez is considered to be a possible "Franchise" center fielder. With the Mets currently without a "True" centerfielder and Jared Kelenic long gone, the Mets don't have many other candidates already in their system. Ramirez could find himself pretty high in the positional depth charts for the role even if he starts the year in the Dominican Summer League.
He is a tall young player who can add some muscle to his frame without sacrificing his speed. At 6'3" and 170 pounds (16 years old) it's very probable that he has some growing to do. He shows advanced hitting skills and knowledge of the strike zone considering his young age and he makes solid contact. It is possible that with time he will develop some power but his defense and speed are the reason the Mets decided to make him such a lucrative offer.
Considering where Ramirez ranks in the history of Met signees it is a bit surprising to see so little buzz attached to his name. It may be that scouts assume the Mets couldn't possibly strike gold again after seeming to strike it rich multiple times over the past years. Or, it could be that two million dollars is no longer thought of as an overly large signing bonus. Afterall, the Yankees and Athletics each shelled out $5.1 Million for their respective free agents this offseason. It could even be the type of player that Ramirez is in the context of the modern game. Teams have moved away from contact/speed players (Like Kenny Lofton) in favor of outfielders who can club a strong number of home runs while fielding the position. Ramirez could add power but is thought of as more of a high average hitter with linedrive power.
Another possibility for why there is so little buzz is that the Mets best international signee might actually be a player who signed for only $95,000 in 2019. Jose Robert Dominguez is 18 years old but many scouts consider him to have been the premier international pitcher from last year's market, which begs the question of why the Mets got him for so little.
Most of this thinking has to be generated by Dominguez's considerable velocity which ratcheted up significantly in 2019 to sit at 97 miles per hour (topping out at 99 MPH). Adding to the excitement around him, it is said that he has a breaking pitch that looks like it could develop into a Plus pitch with the right development. At 6'4" and 200 lbs it seems that he has the exact physicality that most scouts look for. It is very possible that Dominguez will be coming on quickly behind Matthew Allan and Josh Wolf.
The Mets owe their ability to sign him to the fact that, at 18, he was one of the oldest prospects available. It is said that many teams were hoping to snare him at the international signee minimum ($10,000) but the Mets took the leap and made him the best offer. As with any prospect there is a lot of development and pitfalls to encounter between here and a major league debut.
Over the past few years we've seen the Mets aggressively assign their top international signees to the Gulf Coast League instead of starting them in the DSL. With Dominguez already 18 years old, it seems likely that he will skip the international minor league assignment but the placement of Ramirez remains to be seen.
If Ramirez and Dominguez work out as hoped, you can expect the duo of Omar Minaya and Tommy Tanous to get a lot of credit since taking over the international scouting in 2017. Keep tuned to Mets360 throughout the season to get crucial updates on these and other Met prospects.
Key Takeaways:
Alexander Ramirez garnered the 3rd highest international signing bonus in Met history.
He profiles as a speedy centerfielder with solid contact and some power.
The Mets also picked up Robert Dominguez who boasts a 99 MPH fastball and may prove to be a major diamond in the rough.
2019 Mets International Signees:
Alexander Ramirez, of, Dominican Republic
Jostin Almonte, of, Dominican Republic
Junior Tilien, ss, Dominican Republic
Fraudy Vizcaino, lhp, Dominican Republic
Victor Gonzalez, ss, Dominican Republic
Juan Pacheco, rhp, Colombia
Geral Martinez, of, Dominican Republic
Eric Santana, of, Dominican Republic
Jose Dominguez, rhp, Dominican Republic
Alexander Lopez, rhp, Panama
Jefrey de los Santos, ss, Dominican Republic
Jose Acuña, rhp, Venezuela
Fabian Machado, of, Venezuela
Jesus Suarez, ss, Venezuela
Vincent Perozo, c, Venezuela
Joel Flores, of, Venezuela
Yonaiker Palacios, rhp, Venezuela