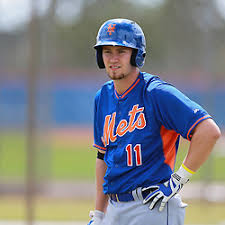 If anyone listens in when I join Brian on the Mets360 podcast you are aware that there is a history on the player Patrick Mazeika. When the Mets drafted the "hitting" catcher in the 8th round of the 2015 draft and assigned him to Kingsport you would rightly assume he was just a depth piece but he managed an OPS of .991 and I was intrigued.
Sadly, the former Stetson catcher has never quite hit enough (once he advanced to higher minor league levels) to ever be worth the amount of hope I had once assigned to him. I was intrigued by a catcher who batted lefty, hit for average and had some power but Brian thought (rightfully) otherwise. Mazeika's power never truly manifested in an impactful way and despite a career minor league SLG of .424 one has to admit that the major leagues are something of a stretch.
When the Mets invited him to Spring Training Brian joked that I would finally get to see him fail against major league pitching and we assumed that would be the end of it. Thanks to some timely good and powerful hitting we might be talking about Mazeika for some time. Thus far he has managed 4 Hits in 9 Games and has hit 3 Doubles and 1 Home Run. It is a small sample size but the catcher/designated hitter will likely have a bit of a confidence boost going into his AAA debut.
To bring people up to speed, Mazeika is not a good defensive catcher but holds his own. He's likely the second string AAA catcher behind Ali Sanchez (who has excellent defensive chops and poor hitting). It would be logical that Mazeika will feature prominently in the AAA lineup even on days he's not catching as the DH or even playing first base.
Regardless of how Mazeika finishes this Spring he would have a ton to prove in AAA to warrant more than the cup of coffee I'd expect him to earn presently. I fully expect Brian to continue to make fun of my devotion to a player who is still more likely to never get a major league at bat then to have any sort of major league impact. One of the things that makes Spring Training fun is musing over what might be and being hopeful for the future.
Other Notable Spring Training Showings:
Edgardo Fermin, SS/2B – The AA middle infielder is having a solid Spring Training thanks to taking a disproportionate amount of walks. Historically, his eye is good but not this good and the sample size is super small but it's always nice to see a player succeed before they'd be expected to.
Batting Line: .333/.714/.333
Ryan Cordell, OF – The former Whitesox outfielder has had a ton of at bats but is unlikely to make the team unless Dominic Smith is traded before the start of the season. He can play center field and will spend time in the majors for the Mets in 2020.
Batting Line: .233/.258/.367
Johneshwy Fargas, CF – If you exclude his outing on March 5th (where he hit for the cycle) Fargas isn't a particularly exciting name. The speedy centerfielder will be waiting in AAA in the case that Jake Marisnik is injured.
Batting Line: .280/.308/.520
Andres Gimenez, SS – People know who Gimenez is but after a disappointing 2019 it's very good to see him having such a good Spring Training. It's worth noting that Amed Rosario has been struggling badly.
Batting Line: .250/.308/.458
Jarrett Parker, LF – The former Giant's outfielder is 31 and no longer remotely classified as a prospect but he's been a solid producer in part time roles at the major league level several times. It is worth noting, however, that he cannot play center field.
Batting Line: .217/.308/.478
David Peterson, LHP – After a ho-hum 2019 the shine has badly faded on this 2017 first round pick. He's been a solid performer this Spring and looks to ride that confidence boost into AAA. He should see time in the majors for the Mets when injuries start to crop up.
Pitching Stats: 6.0 IP, 6K, 5H, 3 BB
Adonis Uceta, RHP – The 25 year old relief pitcher doesn't ping on most radars but he's been hanging around the top 50 Mets prospects for the last couple of years. Overall, his Spring hasn't been great but his strikeout numbers have been solid. He's destined for the AAA bullpen.
Pitching Stats: 5.0 IP, 8K. 8H, 2BB