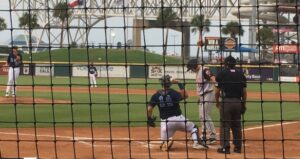 Late last season, the Seattle Mariners AA affiliate, the Arkansas Travelers, were facing Forrest Whitley (23) and the AA affiliate of the Houston Astros, so it was a good time to see personally how good Jarred Kelenic (21) actually was. Whitley is a top prospect for the Astros that had a tough 2019 and was rebuilding his strength after some injuries and mechanical problems derailed his season. The Travelers were a very good team with a .600 record, but the Astros AA affiliate, the Corpus Christi Hooks, were below .500 and no one was going to these games the first week of school (most schools start in Texas the last Monday in August) anyway, so getting a seat behind home plate was pretty easy.
We all know Kelenic, so he doesn't need the introduction. Whitley has been ranked as high as the top pitching prospect and a top-10 MLB prospect but last season slipped to #19 due to the mechanical issues. Whitley has a 60 grade fastball, 60 curve, 55 slider, 60 changeup and 55 cutter, so the stuff is there with five all-star quality pitches. He needs to fix his 35 grade control, but most taller pitchers need time to harness the whole package and at 6'7", he's tall.
As my purpose was to go see how good Kelenic looked, but I will touch on some other players that caught my attention that day:
-Whitley looked like he was toying with this lineup. He was consistently in the mid-90's and hit 98 once. Can we give the Astros a few low minors players for him? It looked so effortless. Striking out 8 in five innings and no one got a good piece off him except for Cal Raleigh. Also, Whitley was pitching to a third baseman trying to learn catching to improve his standing in the pecking order of third basemen but like a true professional, he never showed concern.
-One player I would want from the Travelers is the catcher, Cal Raleigh. He looks like the Colossus of Rhodes standing in the box and his throws down to second on stolen bases are just lasers. An ex-catcher sitting behind me, who saw the whole series, told me that he has very good defensive approach. I loved this guy.
-Another top Travelers prospect, Kyle Lewis, has all the tools and a very good right field arm, but doesn't get good jumps defensively and dogs it running out ground balls.
–Mike Ahmed is Nick Ahmed's brother, a utility type player on the Travelers, that seems more heady than toolsy. I don't see a major leaguer there.
-The only Astros reliever, Yohan Ramirez, hit 99. So, the Travelers were facing a good arm all night.
Now to move onto Kelenic, a player that oozes confidence. Kelenic has a quick bat and can barrel up a fastball, but has no chance against a good curve, and Whitley's is MLB caliber. Now I realize that many players have struggled against curveballs, but MLB hitters can get a piece of it through recognition. I have uploaded three at bats. The first two against Whitley were both strikeouts, the second two were against Ramirez. The only at-bat I couldn't upload due to MB restrictions by Vimeo was Kelenic's sixth inning atbat against Ramirez which resulted a pop-up to the left field line behind third that the Hooks in perfect Bad News Bears form let drop with man on first and second and one out, but it was an infield fly, so no damage.
Kelenic does have good speed, a strong arm and navigates center field easily, but plays rather deep. Moving to the intangibles, I went to two games. Kelenic didn't play in the first one but was on the top step of the dugout all game. Always greeting his teammates when they came back, moving over to talk to coaches who were close by and always in the game, he looks the part of a studious player. So glad Brodie Van Wagenen got rid of him; who wants players like that anyway? No wonder there were people in the Mets front office that were crying when that trade was made.
I can see a good player here but not a player I would already rank at #11 as MLB did. Kelenic has the tools and like a good young hitter he can hit a lightning bolt, but in the upper minors pitchers throw more consistent secondary pitches and Kelenic looks like he needs work in that area. As we are in April and can't find a live game anywhere, sure felt good to watch these videos. Hope you enjoy them.