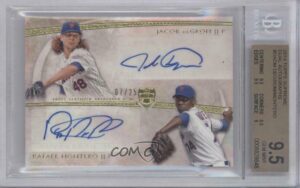 May 15 was the six-year anniversary of Jacob deGrom's major league debut, where he allowed one run in seven innings to the New York Yankees and took the loss – owing to a lack of run support which has become the hallmark of his career in Flushing. But while deGrom has blossomed into the two-time Cy Young Award winner that he is today, his debut was overshadowed that weekend by that of an even more heralded prospect, Rafael Montero.
The Mets signed Montero as a relatively-old 20-year-old out of Higuerito, Dominican Republic in January 2011, one of the first international free agents signed by Sandy Alderson. He came to the United States to start pitching that year, and by 2012 was established as one of the up-and-coming pitching prospects in the organization alongside Matt Harvey and Zack Wheeler. Against higher-level competition in Double-A Binghamton and Triple-A Las Vegas in 2013, he carved up batters to stir even more excitement.
With the divergent paths that Montero and deGrom's respective careers have taken, it's easy to forget that Montero was considered the greater of the two prospects entering the 2014 season. Baseball America ranked Montero as the No. 3 prospect in the organization behind Noah Syndergaard and Travis d'Arnaud, while deGrom was tenth. He was even tabbed as the No. 68 prospect in all of baseball by the publication, and MLB Pipeline rated him 85th.
On May 14, Montero made his first start in the major leagues, allowing three earned runs in six innings against the Yankees, taking the loss. He finished a turbulent rookie season with a 4.06 ERA and was exactly replacement level in his production across 44.1 innings, according to rWAR (0.0). He allowed just under a hit per inning, and struck out 42, but walks (23) and home runs (8) were a major concern, especially since his trademark in the minor leagues had been control. Meanwhile deGrom exploded to win Rookie of the Year.
Montero's stock dropped heading into 2015, and Baseball America slid him down to the No. 8 prospect in the organization. As a control pitcher with a fastball in the low-90s, his ability to develop better secondary pitches in 2015 was going to be key to his future. After a career of getting minor league hitters out with good control, backwards pitching and fringe sliders, major leaguers could recognize pitches better and didn't miss.
After only 28.2 innings combined between the Mets and Las Vegas in 2015, Montero experienced swelling in his rotator cuff, and was shut down on April 29. He didn't pitch again that season and missed what could have been a pivotal season in his career. When he returned in 2016, he spent much of the season with Las Vegas, walking 59 batters in 129.0 innings. The MLB portion of his season lasted only nine games, featuring 16 walks in 19.0 innings and an 8.05 ERA.
It looked like Montero would never live up to the hype. In his first six appearances with the Mets in 2017, he had an ugly 9.45 ERA and was sent down to Las Vegas.  As a starter with the 51s he allowed two runs in 10.1 innings while fanning 16 batters in two starts before getting recalled. More mediocre results, another option to the minors. He came back to the Mets for good on June 15 and posted a 4.98 ERA for the rest of the season.
More troubling for the righthander was that he walked an alarming 67 batters in 119.0 innings, (5.1 BB/9), the ninth-most in the National League. However, there were two nuggets of positivity that potentially spoke to something good if the control issues could be solved.
According to Statcast data from Baseball Savant, Montero was among the best pitchers in baseball in both Hard Hit% (25.3) and Exit Velocity (83.2). These two related metrics showed that despite the bad results, opposing hitters weren't making great contact against him. His four-seam fastball and changeup both showed significant improvement from 2016, but control and command continued to be a problem.
The injury bug struck again for Montero before the 2018 season when he suffered a UCL tear which required Tommy John surgery to repair. After missing the entire season, he elected free agency in November and signed with the Texas Rangers in January 2019 on a minor league deal.
He began his rehab on June 17, and made it all the way back to the majors with Texas on July 23. Pitching exclusively out of the bullpen for the Rangers, Montero pieced together a strong 22-game stretch with Texas – posting a 2.48 ERA and 1.2 rWAR.
Montero's improvement in 2019 was two-fold: He is throwing harder than he ever has before, and his changeup is drastically improved.
Statcast registered his average fastball at 95.9 MPH in his 2019 big league work, and he began throwing his change nearly 40% of the time, with opponents hitting just at a .185 wOBA clip against it, a far cry from the .335 wOBA vs. the changeup batters had in 2017.
Of course, 29.0 innings is not enough to make a full judgment on if Montero, who turns 30 in October, has turned the corner in his career, but the results are promising. The 2020 season being in the balance is another tally in the unfortunate luck column for the right-hander, who could have been poised to finally establish himself as a productive MLB pitcher.