The MLB General Managers' Meetings are starting to wrap up down in Orlando, and – color me shocked! – the Mets haven't done anything visible. I know…I know…It's the GM Meetings, not the Winter Meetings: there's very little in terms of actual player movement that gets done in this go-'round, the meat of which goes on at the Winter Meetings in December. We fans have to keep reminding ourselves of that, while we rail at the Mets' "inactivity" this week. It's not always easy to remember.
As stated, these GM Meetings are generally where the groundwork for deals gets put in place. Traditionally, the paying public has not been privy to these talks, but nowadays – the age of Twitter, Facebook and the 24-hour news cycle – the talks are talked about. Everybody wants their scoop, they want to be the one who "broke" whatever story is out there, so leaks abound and information and its evil twin, "misinformation" fly about, untethered by gravity or truth. When you have an owner who has a propensity for the grand public gaffe while suffering from pedal-oral inversion as the Mets do, there's no need for leaks: the misinformation writes itself.
To wit, Jeff Wilpon's statement yesterday: that the Mets were working "late into the night" on Tuesday and will probably "hopefully" have an announcement late on Wednesday. "We're juggling a lot of balls, right now," he said. "We just need to see which one falls." Setting aside the obvious "circus/clown" snark for a moment, the online Mets community immediately went ablaze when Wilpon's words were transmitted. "Jhonny Peralta!" we all speculated. "Maybe it's Curtis Granderson!" came a shout from another quarter. Another source told us the Mets were going "hard after" Nelson Cruz. We got all kinds of giddy.
When the working press got hold of GM Sandy Alderson, however, and apprised him of Wilpon The Younger's comments, he looked at them all as if each had four heads. "No, no… Nothing is imminent," he said. Another round of speculation online followed: "Why would Jeff Wilpon say something if nothing is imminent? Wait! You don't think…?"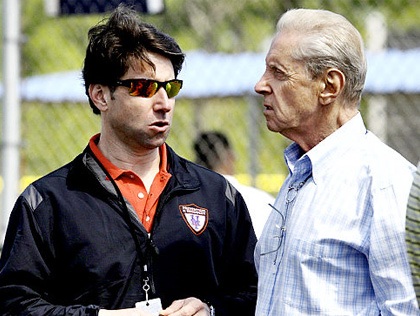 In the end, of course, we did think, and that thought was sadly borne out: there was an announcement made by the afternoon. Was it about Peralta, Granderson or Cruz? Nope. Was it about any free agent/trade candidate headed to Queens? Nope. It was the most underwhelming news that Huey Lewis & The News and Boyz II Men would be playing post-game concerts at Citi Field next summer, that there would be a t-shirt promotion every Friday home game and of course, several new ticket packages for the 2014 season would be available. Wailing and gnashing of teeth ensued – even the usually even-tempered Matt Cerrone could be heard seething behind his pixels after that. Several hours after that, it came to light that Mets actually had sat down with Peralta "in secret." In his heart-of-cynical-hearts, your intrepid columnist can't help but look at this news as nothing more than a "Wag The Dog" operation: let's plant a story that we're meeting with the guy "they" – the fans — all want. That way, the heat is off the owner for his buffoonery earlier, and "they" can focus on a shiny thing.
The takeaway here is that Jeff Wilpon should never be allowed near an open microphone. He seems to have a natural tendency to screw things up, and loudly. Not only did he send what's left of "his" fan base into an unnecessary tizzy, he hung his GM out to dry in the process. This columnist was raging so much yesterday that he Tweeted that Alderson should resign today and compared the date 11/13/13 to other dates in Mets infamy, 7/15/77 6/15/77 and 9/30/07. The other takeaway, of course is that all this ballyhooed "money coming off the books" will not, in fact, go into the pockets of Peralta, Granderson, whoever. No. More and more, it looks like it's earmarked for the crushing debt service looming in June 2014, and fewer and fewer of us will be watching the likes of Eric Young, Jr. , Ruben Tejada and Lucas Duda for another season as Jeff Wilpon tries to hang onto his family heirloom by his fingernails.
And ultimately, Citi Field remains Citi Morgue.
Follow me on Twitter @CharlieHangley
***************************************************************************************************************
Got something to say about the Mets? Go to the Mets360 Forums to talk about whatever you like in regards to the Amazins!
***************************************************************************************************************