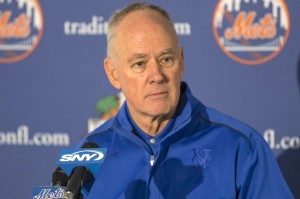 "Moneyball" was written in 2003 by Michael Lewis. The book was about how general manager Billy Beane used advanced sabermetrics to build the Oakland A's with a limited budget. Sandy Alderson was Beane's predecessor in Oakland. When the Mets hired him after the 2010 season, Alderson brought two of Beane's disciples Paul DePodesta and J.P. Ricciardi with him. DePodesta has moved on to the Cleveland Browns and Ricciardi is still with the Mets as a special assistant to Alderson.
Since Alderson took over as the Mets GM, he has had a budget and limited financial resources to pursue players. Even with their success over the Last two years, the Mets have struggled to score runs. The Mets roster does not look like a roster that was built with advanced sabermetrics.
Beane valued on-base percentage. The A's also had power hitters with Miguel Tejada and Eric Chavez. In 2002, he brought in Scott Hatteberg. Hatteberg had a .374 on base percentage. In 2006, the A's had four starters with on-base percentages greater than .350 including Frank Thomas, Nick Swisher, Jason Kendall and Chavez. They won 96 games and lost in the AL championship series to Detroit, while with the 21st lowest team salary in the majors.
In 2016, the Mets relied on the long ball. They were second in the National League with 218 home runs, but they were 11th in runs scored with 655. They were tied with the Reds for 13th in the league for on-base percentage, only ahead of San Diego and Philadelphia. Even with Yoenis Cespedes, what happens if the Mets home run production drops in 2017? Even with great pitching, it could be a long year.
Alderson needs to look at the roster and make improvements in on-base percentage. There are positions where the Mets can make improvements to the roster, not by relying on free agency, but by adding value via trades.
Andrew McCutchen has a career .381 career on-base percentage. Cutch had a bad year last year. With the continued development of Starling Marte and Gregory Polanco, the Pirates could afford to trade McCutchen. Alderson should sell high on Robert Gsellman and Seth Lugo. The Mets could build a package with Gsellman, Nimmo and another prospect. McCutchen has a $ 14 million salary in 2017 with a club option for 2018 at $ 14.5 million. That is lower than a qualifying offer.
The Mets could use an upgrade at first base. Lucas Duda is affordable, but what impact will his injury have on his performance. Loney is certainly not the answer. In 2016, Freddie Freeman hit over .300 with a .400 on-base percentage. Freeman has five years remaining on his contract at an average salary of $ 21 million. The Braves are continuing to rebuild and probably won't contend until the end of Freeman's contract. Freeman's salary is increasing by $ 8 million from 2016 to 2017. It will take a lot to pry Freeman away from the Braves. Build a package with Dominic Smith, Gavin Cecchini and Seth Lugo plus another prospect. It is a tantalizing thought. The Braves will most likely try to dump Matt Kemp and his salary as part of the trade.
By adding McCutchen and Freeman to the middle of the lineup, the Mets can afford to lose Cespedes. It is highly likely that another team will outbid the Mets for Cespedes.
It is time for Alderson to use his sabermetrics to play "Lets make a deal."