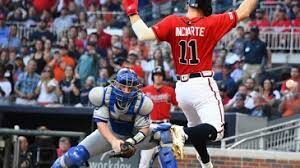 One area of concern for the Mets this offseason is the center field position. Juan Lagares' contract has expired, and he is not expected back with the Mets for 2020. Brandon Nimmo and Michael Conforto are fine corner outfielders but are below average fielders in center. The answer to this problem just might be found on the roster of our division rival to the south, in Atlanta.
Ender Inciarte is the incumbent in center for the Braves, and he has had a fine career including Gold Gloves from 2016-2018. However his production fell off significantly in 2019. It was an injury-plagued season for Inciarte, including hamstring woes that ended his season. His slash line in just 65 games was only .246/.343/.397 for the season.
Why should the Mets be interested in Inciarte? As noted, he is a premier defender in CF with excellent speed and a good bat, when healthy. In his last full season, 2018, he posted a 7.2 UZR, a refreshing change from the negative numbers put up by the Mets' center fielders in 2018. As to his speed, he did steal 28 bases in 2018, and the Mets could sure use some speed on the base paths.
He will be 29, a prime age for MLB players, in 2020. He was nearly activated at the end of the season but the Braves decided to be cautious and kept him on the Injured List. Plenty of players have had hamstring issues at times and bounced back well, including our own Jeff McNeil last year. The injury plagued 2019 seems like an aberration, In 2017 he played in 157 games, followed by 156 games in 2018.
Perhaps the most compelling reason the Mets would be interested in Inciarte is the way he performed in August, when his line was .295/.436/.455, accompanied by four doubles in 44 AB. Then, after fourteen games in the month, the injury struck.
That August line happened at the end of the season for him, and that could well be indicative of the kind of offense he can provide when healthy. If so he would be the most productive CF in recent years for the Mets. He has a team-friendly contract that runs through 2021.
Why would the Braves be willing to trade Inciarte? They did do just fine without him for part of the year in 2019 and they won the division. They played young star Ronald Acuna Jr. in center, although his natural position is RF. But the main reason the Braves might part with Inciarte is the fact that they have a potential star CF who is expected to make the team in 2020, Cristian Pache.
The Braves have a stacked pipeline of prospects, and Pache is at the top of the list. Last year, his age 20 season, was split between AA and AAA ball in the Braves system. He produced a .277/.340/.462 line, with extraordinary defense. He could be a fixture in center for Atlanta for years to come.
Oh, and Pache is not the only center fielder knocking on the Braves door. Switch hitting center fielder Drew Waters played well in AAA in the Braves system last year, and he too could be ready for MLB in 2020. He is ranked in the top 100 of all prospects in the minors by most of the ranking sites, he also is an excellent fielder with speed and power potential.
Waters turns 21 in December, and he played in both AA and AAA ball in the Braves system last year. His combined line for 2019 was .309/.360/.459 with 16 steals in 134 games
Speedster Billy Hamilton came over to the Braves in August and did get some time playing time down the stretch. He had a pretty good run with the Braves, with elite defense and base running, and even his hitting was better than it had been. The Braves declined his hefty option so he is a free agent, but the chatter among Braves fans is he could be signed by Atlanta at a lower price as a fill-in backup at center.
If the Mets are going to try to acquire Inciarte, they are going to have to come with an enticing player or players to offer Atlanta. The Braves needs include another good starting pitcher, in fact they may well bid for Zack Wheeler, a Georgia native who has shown great stuff for the Mets but is now a free agent.
At any rate, center field is an unsettled position for the Mets, and if a deal could be worked out with the Braves, he just might settle into center field for the Mets for some years to come.
Takeaways
1. The Mets have a deficiency at the CF position.
2. The Braves have an accomplished CF who was impacted by injuries last year.
3. The Braves could consider trading Inciarte since they have two premier players at the position in their pipeline that are MLB ready.