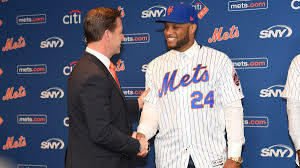 It's been the off-season for a little less than two weeks, now. The Washington Nationals (!!!) have been crowned as Champs, winning the World Series on their first shot. The Houston Astros were denied their second title in three tries, amid mysterious pitching blunders and vapid hitting. The awards are starting to roll in, with hardware heading to Queens — some surprising (Jacob deGrom's second consecutive Cy Young Award, that news coming through as this is being written) and some not surprising at all (Pete Alonso's near unanimous Rookie of the Year trophy). Oh, and the Mets have a new manager, as you might have heard.
Carlos Beltran is coming home to the stadium that was built with his particular skill set in mind – if you recall the cavernous dimensions of Citi Field from 2009 through 2012, it was made to avoid a surfeit of home runs and invite a slew of doubles and triples, a perfect setting for the likes of Beltran and Jose Reyes, but lethal to David Wright's kind of game. Beltran won't be getting a crack at the closer fences this go 'round – barring disastrous injuries to key outfielders – but he will be prowling the dugout, handling the intricacies of the double-switch and other such National League niceties. As has been noted, this is Beltran's first opportunity at managing on any level and as much as Beltran was loved when he played here, there has been some trepidation about his lack of experience. Having just come off a similar two-year experiment with departed neophyte Mickey Callaway, this caution is certainly justified. However it all turns out, one thing is certain: for better or worse, this is now GM Brodie Van Wagenen's team. From a fans/media standpoint, it appears he will be on a very tight leash.
Takeaways
1. Brodie Van Wagenen made some head-scratching moves last off-season.
2. He hired an inexperienced manager to replace an inexperienced manager.
3. He might not have the financial wherewithal to make the necessary moves to put the Mets in the playoffs.
As we all know, Van Wagenen is still wet behind the ears, himself. He came out of the ranks of player agents – out of nowhere, then, really – as the surprise choice of owners Fred and Jeff Wilpon. If one were to ask the fan base at the time, the choice was no surprise at all. The immediate assumption is that the Mets' ownership family chose a man over whom they could exert more than a measure of control. His main competition for the job, Chaim Bloom, has just been handed the reins of the formidable Boston Red Sox, World Series champs only a year ago. And really, what else are we fans to think? Here's Bloom, not good enough to guide the 77-85 Mets of 2018, but wonderfully suited to steer the erstwhile defending champion BoSox. OK, we can move on from that, though: it's water under the Hellgate now. Van Wagenen tried to make his mark immediately. Hoo, boy did he ever! He made that trade.
At the Winter Meetings last December, Van Wagenen strode to the podium an announced that he had sent outfielder Jay Bruce, pitcher Anthony Swarzak and three prized prospects – outfielder Jarred Kelenic, and pitchers Justin Dunn and Gerson Bautista – for second baseman Robinson Cano and bullpen ace Edwin Diaz. At the time, you could hear the howls from here to Montauk. Bruce and Swarzak aside, how can the Mets, historically hurting in the farm system, deal three of their top AAA players for an admitted steroid cheat with a famously bloated contract and a relief pitcher? OK, Diaz led the universe in saves in 2018 and the Mets entered the off-season with no closer to speak of, but still… Van Wagenen then doubled down on the bullpen rebuild, bringing back Jeurys Familia on a three-year, $30 million free agent contract. After signing veteran catcher Wilson Ramos, he then swung a couple of under-the-radar deals for reliever Justin Wilson and all-around player J.D. Davis. With the talent already on hand when he got here, Van Wagenen thus proclaimed the Mets the team to beat. "Come get us!" he famously crowed on the eve of spring training.
There's a fine line, of course, between being bold and foolhardy. Had they worked, Van Wagenen's moves – all of them – would have been hailed as visionary and brave. He would become known as a general manager who's not afraid to take big chances and blow some fresh air into a somewhat staid industry. But as we know, all the moves didn't work. Cano, at age 36, continued his accelerated aging process – aided and abetted by his past use of illegal chemicals. Ramos took awhile to start hitting. Wilson was beset by injuries. Familia was an unmitigated disaster as a set-up man. And perhaps cruelest of all, Diaz suddenly forgot how to finish ballgames. "Come get us?" Well, the rest of the NL certainly did. After their now-customary hot start, the Mets stumbled to a 40-51 record one game after the All-Star break. We all know what happened next, a fortuitous combination of a weak schedule, a shuffling of the bullpen which ended up with Seth Lugo becoming its most trusted arm and frankly, some blind luck catapulted the Mets squarely into the middle of the Wild Card race. At the trading deadline, Van Wagenen confounded everybody again, by A – not trading the infinitely marketable free agent to-be, starting pitcher Zack Wheeler and B – trading for the prize arm of the deadline, Marcus Stroman. The theory, supposedly, was kind of, "Well, we got this far; we may as well go for it." And it very nearly worked! It was only an insane run by the Milwaukee Brewers over the same time period that kept the Mets from playing a game number 163, at least.
We always remember the endings, but unless it's as stark as the 2019 Mets, we often forget the leadup to it. We remember the run-up to the post All-Star surge. We remember the shaky relief pitching. We remember the hitting lulls. Van Wagenen's job, now, is to finish putting together a team built for both halves. There is a sighing assumption out there that the usual Wilpon-imposed salary restrictions will remain in full force, thus keeping Van Wagenen from pursuing players like Anthony Rendon or hanging onto Wheeler. The off-season has just begun; we have no idea how it will play out. Van Wagenen could surprise us again. He could make moves more bold than foolhardy. It is possible.
We're just not sure it's probable.