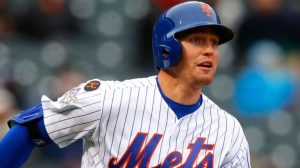 With Juan Lagares gone, it's possible that Brandon Nimmo is now the most polarizing player on the team. He's below-average defensively in center field, he strikes out too often and his batting average is nothing to write home about in most years and was downright bad last season. On the flip side, he's got great OBP skills, underrated power, is a good baserunner and he's average or better defensively in an outfield corner.
People say he was awful before going on the IL last year for three-plus months and then rebounded to post a solid September. But that's overselling the first part and underselling the second.
Nimmo certainly did not start off the season well, as he struck out 17 times in his first eight games and had just a .327 OPS at that point of the year. But then he started to heat up. After the game on April 16, Nimmo stood with an .851 OPS, a nice rise of 524 points in nine games.
Unfortunately, the game of April 16 is when it all started going south. He got a leadoff walk in the top of the first inning but had to come out of the game in the bottom of the frame with a stiff neck. He did not play again until April 20. From 4/20 to 5/20, Nimmo posted a .536 OPS in 93 PA. The only thing that kept that line from being worse is that they moved him out of the leadoff spot and sat him in several games, too, keeping his total PA down.
If all you do is look at the line when he went on the IL, you would conclude that he was bad before the IL trip. But that doesn't tell the whole story. Nimmo was on the upswing before he had to miss several days. If the Mets had put him on the IL at that point, the narrative of his 2019 season would be completely different. Even if he didn't rejoin the team until September 1, like he did in real life, his final numbers would be:
.252/.415/.520
That month-long stretch when he tried to play while injured cost him 147 points of OPS from his (abbreviated) season-long line. When not playing with a bulging disc in his neck last year, Nimmo was even better than his breakout season in 2018, when he posted an .886 OPS.
There was a concern that when Nimmo was activated this past September that he would have too much rust to be useful while the Mets were battling for a playoff spot. But that turned out not to be an issue, as he notched a .995 OPS in the final month of the season. He got on base at an even better pace than in 2018 and with 10 of his 18 hits going for extra bases, he delivered more power, too.
As everyone who was a fan of David Wright knows, neck injuries are serious. But we have to distinguish between the injuries that Wright and Nimmo suffered. Wright had a herniated disc while Nimmo's was a bulging one. The difference between the two is that Wright's contained a rupture of the disc's outer layer, while Nimmo's did not. Wright's needed surgery while Nimmo returned to action with the combination of rest and rehab.
The key question moving forward is: What is the likelihood that Nimmo will suffer more bulging discs in the future? Not being a doctor and not even staying in a Holiday Inn Express meant that my immediate best chance was to search Google and there was little immediately fruitful in my exhaustive two-minute search.
The good news is that you figure if multiple players had suffered multiple bulging discs in their careers, that's something that would turn up immediately in a Google search. What information did turn up seemed much more centered on herniated discs, with Wright being a frequent citation, along with Prince Fielder.
The only reference found to a player by me in my two-minute search was to ex-Met Michael Cuddyer. According to this 2013 article, Cuddyer first had a bulging disc in his neck in 2004. It flared up again in 2011 and again in 2013. While with the Mets in 2015, Cuddyer went on the then-named disabled list but it was with a bone bruise in his knee. When he retired, he explained that he had been on the DL six times in the past four years and listed off the reasons – a broken shoulder, strained oblique, torn-up knee and the bulging disc in his neck.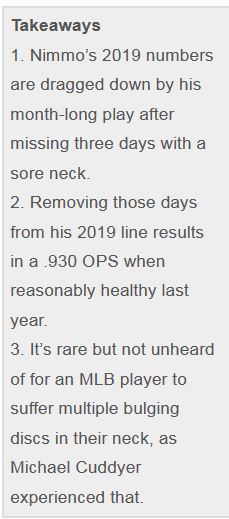 So, the return of a bulging disc has to be a concern for Nimmo going forward. But given that it took seven years for it to return with Cuddyer, it's not like we should be ultra-concerned about it affecting his 2020 season.
It's fun to think about the Mets' offense in 2020 featuring a full season with a healthy Nimmo. What he did in 2018 and in the 161 PA in 2019 when he was mostly free from the sore neck show a guy who is a difference maker. His 159 wRC+ in the month of September last year was the seventh-best mark in the National League and his .995 OPS ranked fifth. And while you might be skeptical of September stats, it's not so easy to dismiss the 148 OPS+ mark he compiled in 2018.
Nimmo was a first-round pick and many people labeled him a bust because he didn't come up and contribute right away, like some guys drafted after him did. Perhaps it's those same people who were quick to label him a bust who right now think he's nothing special. Sometimes it's hard to know what drives the negative Nancy types. Regardless, let's hope Nimmo has a healthy 2020 and can bolster his case for being an impact player.