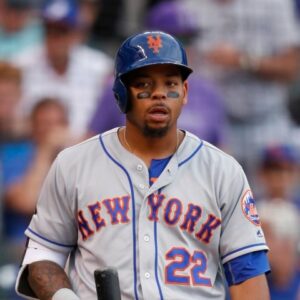 One of the most challenging things for baseball GMS and wannabe GMs is to determine when a sample size is big enough. Justin Turner was nothing special in his years with the Mets and they cut him loose in a salary-related move. And the very next year he was outstanding for the Dodgers. But in his final 42 PA, Turner put up a .929 OS with a .214 ISO. Extremely small sample size but given that his career ISO with the Mets was .105, perhaps they could have considered that something has changed. Of course, no one was talking about that at the time. It's only because of what Turner did subsequently that the sample looks interesting. And that's because Turner became an early adopter of the fly ball revolution and the results were just starting to show late in 2013.
Or look at Daniel Murphy. After years of being content to flick the ball the other way for a single, Murphy finally looked to pull the ball with power. We all remember his remarkable run in the playoffs in 2015 but we started to see more evidence of that change in Murphy in August and September that year. Through July 24, Murphy had a .268/.321/.384 line for a .705 OPS and a .116 ISO. But in his last 239 PA of the year, Murphy had an .851 OPS and a .233 ISO. Murphy was a free agent following the season and was looking for a long-term deal. The Mets weren't convinced that what he did was real but they had more faith in what he did than they did previously with Turner. They offered him the QO which Murphy rejected. But Murphy didn't find many believers out there in free agency. It wasn't until the Nationals were rebuffed by multiple other targets that they turned to Murphy and gave him a three-year deal, one with an AAV significantly lower than the QO he rejected. And of course Murphy gave the Nats two outstanding years before dealing with injury problems in the third.
Which brings us to Dominic Smith.
The former first-round pick was supposed to be a hitter who sprayed the ball from foul line to foul line, one who would hit for a good AVG but not necessarily being the slugger you think of when you think of a first baseman. But doubles power and a good glove at 1B is not the worst combination in the world. But when he got to the majors, Smith displayed more power than anticipated. In limited action his first two seasons, he put up ISOs of .198 and .196, which was at least 30 points higher than what we might have expected.
And then in 197 PA last year, Smith put up a .243 ISO. If he had done that over a full season, that would have been the 20th-best mark in the NL. He would have been nestled between Bryce Harper (.250) and Kris Bryant (.239) and it would have been the second-best mark on the Mets, above Michael Conforto (.237) but significantly behind Pete Alonso (.323) – who finished third in the NL.
And of course that's the problem. As good as Smith was last year, Alonso was better. And not by just a little bit. The Mets did not want to play Smith in the outfield after he wasn't any good out there in 2018. But his bat was so good that he forced his way back out there. But he wasn't much better defensively. In 223 innings in the outfield, he put up a (-3) DRS and a (-3.6) UZR. Extrapolated to a full season, that latter number produced a (-22.6) UZR/150.
So, that seemingly leaves the Mets with two options. They can keep Smith to be a pinch-hitter deluxe and caddy for Alonso or they can look to trade him to fill other holes on the roster. But can they get anything close to "full value" in a prospective trade? Lifetime he has just a .745 OPS in the majors and that doesn't exactly scream desired 1B to other teams.
But it feels like the memory of Turner and Murphy should be in play here.
That .243 ISO in 2019 is not something that should be dismissed out of hand. And it's not the first we've seen of that from Smith in the majors, either. In sporadic playing time the first half of 2018, Smith didn't hit much at all. But in his final 28 games that season, he had a .264/.293/.514 line for a .250 ISO. So we have 75 PA in 2018 and 197 PA in 2019 where he's hit for this type of power. Still, 272 PA is a small sample.
In hindsight, we can say that Turner embraced the fly ball revolution. At the time we recognized that Murphy was pulling the ball with authority. But can we say what's going on with Smith, that he's completely flipped the narrative about him having below-average power for a 1B, to having what would have been the fourth-best ISO for an NL 1B in 2019 if he had enough PA to qualify?
For his career, Baseball-Reference has his Hit Location as 32% pulled, 49% up the middle and 19% to the opposite field. In 2019, those numbers were 33%, 50% and 17%, respectively. So, it's not like he started to pull the ball with authority like Murphy did. And FanGraphs shows his FB% of 37.1% being just 0.5% higher than his lifetime mark, which makes it doubtful that he's become a fly ball advocate, like Turner.
We may not be able to identify the "how" at this moment in time. But we should at least be aware that something is different in the results. Could be nothing more than a statistical blip and in the future Smith goes back to being a low-power 1B. But if he does get traded and goes on to put up big power years in another uniform, we shouldn't act surprised.
It's one thing to advocate for a trade of Smith and another thing to have a trade that would make it worthwhile. Just because you have no current room for a player doesn't mean you trade him for pennies on the dollar. Essentially, that's what the Astros ended up doing last year with J.D. Davis, with the Mets being the beneficiaries.
Jay Jaffe in an Insider piece for ESPN, suggested that the Mets and Blue Jays could partner in a win-win deal involving Smith. Jaffe had the Mets sending Smith and Franklyn Kilome to the Blue Jays for Ken Giles and Trent Thornton. Giles rebounded from a poor 2018 to post a 1.87 ERA and a 1.000 WHIP in 53 IP last season, one in which he limited opposing batters to a .574 OPS. He's a quality arm, with a lifetime 2.67 ERA and a 1.000 WHIP in 347.1 innings, and comes complete with closer experience.
A Smith who can deliver a .243 ISO over a full season is likely worth more than Giles, especially given the contract status of the two. But when you look at the haul that the Astros received for Davis, it's a significantly better return. There's nothing wrong with trading Smith, even with his offensive upside. After getting nothing for Turner and a draft pick for Murphy, it would be nice to get a key contributor to the 2020 team if they decide to cash in this offseason.