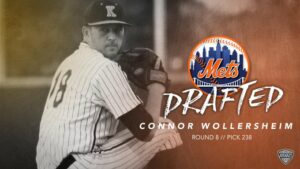 It would have been great to have been a fly on the wall in the war room for the Mets' 2019 Draft. In the first three rounds, they took two guys who ended up signing for significantly more money that their slot level or pool allotment for those picks. In order to do that, they needed to go under slot with their next seven picks. You have discussions with picks before you take them, so you have a pretty good idea what the player will sign for. But it's one thing to do this in theory. It's another thing to do it in reality. For as much bashing as Brodie Van Wagenen gets for other area of his job in his debut season as GM, he deserves plenty of praise for pulling off this particular maneuver.
Josh Wolf and Matthew Allan, the two overslot picks in the first three rounds, signed for a combined $4.65 million. The next seven guys after Allan signed for a combined $62,000. The only way the Mets were able to pull off signing Wolf and Allan was to go cheap with the next seven, the slots that determine the overall pool allotment of money the Mets had to spend on the draft class. And the only way to do this was to pick guys with little or no leverage – college seniors.
Jake Mangum was the team's fourth-round pick and the last to sign. He received a $20,000 bonus, which was $467,000 under his slot. The Mets took that money – and the savings from the others in the top 10 picks – and applied it to Wolf and Allan. Perhaps the most interesting guys among the Mets' top 10 picks were eighth-rounder Connor Wollersheim and 10th-rounder Scott Ota. Both of those guys signed for a bonus of just $1,000.
Wollersheim is a LHP from Kent State, who became a full-time starter in his senior season in college. A lefty who fanned 97 batters in 83.2 IP would seem to deserve more than a four-digit signing bonus. But he didn't. Instead he pitched 11 games split between Kingsport and Columbia and combined for a 2.25 ERA in 16 IP. He only fanned eight batters and allowed 11 walks. It will be interesting if he returns to Columbia for his full-season debut or if he goes to extended Spring Training and opens the year for short-season Brooklyn.
Ota played four seasons at Illionis-Chicago and had a terrific senior year, putting up a 1.207 OPS in 238 PA, with 20 HR and 33 BB. He also was assigned to Kingsport and continued to show both power and patience, as he produced 7 HR and 21 BB in 211 trips to the plate. Ota finished with an .875 OPS, compared to a Kingsport team average of .731 for the 19 hitters who played for the club last year. Only Anthony Dirocie finished with a higher OPS and that was produced in just 70 PA. Highly-touted Francisco Alvarez finished with an .820 OPS while first-round pick Baty put up a .775 mark for Kingsport.
Under the current rules for the draft, clubs get a pool of money to spend based on the slot value of their first 10 picks. Each pick after that is assigned a slot value of $125,000 but you cannot use any savings after pick 10 to apply to your pool. But, anybody who signs for above $125K needs to have money from the bonus pool to cover the difference. So, if you sign your 11th-round pick for $150,000, then $25,000 of that has to come from your bonus pool.
In the early years of the bonus pool rule, the Mets went cheap in the early rounds to spend money in the double digit rounds. It didn't make sense at the time and looks even worse in hindsight. Chris Flexen and Corey Oswalt are two of the guys who got a healthy signing bonus in later rounds under this strategy by the Mets. You could say that it worked out, as the odds of a guy drafted after the 10th round to make the majors are pretty low and both of these guys suited up for the Mets. But neither of them have given the team much to date – there's still a bit of hope for Oswalt – and one of the guys they went cheap on early was Gavin Cecchini, who didn't give them much, either.
In the 2019 Draft, the Mets did not go overslot on any of these double-digit draftees. In fact, they only went up to the slot maximum for two guys – Blaine McIntosh and Jace Beck. And even though there was no benefit to signing guys for low-money deals (besides, you know, not having to pay them much) the Mets signed two guys to $5,000 deals and five players to $1,000 contracts.
McIntosh was a prepster who turned down a scholarship to Vanderbilt to sign with the Mets. His debut season wasn't anything to write home about, as he put up a .228/.311/.228 line in 103 PA in the GULF. But McIntosh can at least say he recovered from a brutal starts to post 11 hits and eight walks in his final nine games. The other thing McIntosh has going for him is that with all of the college seniors that the Mets signed in this draft class, it's nice to see a teenager in the crop. And he's a center fielder, too.
Beck's another teenager and he joined McIntosh in the GULF. The thing that jumps out about Beck is his size, as he's 6'9. He's not overpowering but he did have 10 Ks and 1 BB in 8 IP as a professional. It's curious how Beck got the maximum signing bonus. Unlike McIntosh, he did not have a scholarship to an SEC school. Instead, he had a commitment to attend a Junior College. But obviously the Mets liked what they saw from the big righty.
If someone like McIntosh or Beck breaks through and makes the majors, that will be the cherry atop the 2019 Draft sundae. But the class will likely rise or fall on the strength of the first three picks. It's an aggressive strategy, for sure, but one that the Mets should be applauded for taking. The system needs as many high-impact prospects as it can get and they could potentially add three in this particular draft. But it's still good to recognize the guys like Mangum, Wollersheim and Ota who allowed the strategy to happen.