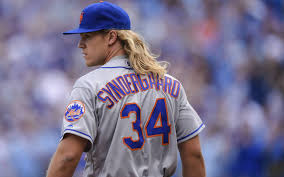 It feels like ages since the Mets entered a season with an offense widely considered to be a potent weapon, but that's the case as we head into a 2020 campaign replete with high expectations. A lineup stacked with reigning Rookie of the Year Pete Alonso, a resurgent Michael Conforto, a rising J.D. Davis, a potential batting champion in Jeff McNeil, and an outfielder with spurts atop the leader boards in Brandon Nimmo is certainly one for which we should be excited. That doesn't even include guys like Yoenis Cespedes and Jed Lowrie who, however seemingly unlikely, could provide major contributions off of the bench.
Potential offensive potency aside, though, this team is still built on pitching and will only go as far as it takes them. This is something the Mets should keep in mind as they fill out the edges of their roster, particularly as they determine who they slot into the backup catcher position when they head north. The competition boils down to Tomas Nido, who is out of options, and frequent Met Rene Rivera, who has the longer and better track record. For the purpose of this article it actually doesn't matter which one makes the cut, though either one will likely significantly impact the team's success this year.
Why is the backup catcher so important on this team? There are two main points to consider in this scenario, and both of them relate to primary catcher Wilson Ramos. First, Ramos played the most games of his career as a 31-year-old last season. That's not a trend you like to see for backstops, especially for ones where both statistics and the eye test confirm a distinct decline in his capability behind the plate. While Ramos provides the clearly superior offense when compared to any of the backup options, he'll need to play in fewer games to keep him fresh as he ages.
Second, and more directly related to the pitching staff, the battery dynamic of Ramos and Noah Syndergaard was a continuing drama that unfolded over the course of the 2019 season. Despite denials, multiple reports stated that Syndergaard wished to pitch to Nido rather than Ramos. It's easy to write this off as Syndergaard reaching for straws during yet another season in which his results didn't match his potential, but the numbers actually support him. Below are a few select statistics for Syndergaard broken down by catcher for 2019:
By Catcher

| Split | G | IP | ERA | SO/W | BA | OBP | SLG | OPS |
| --- | --- | --- | --- | --- | --- | --- | --- | --- |
| Travis d'Arnaud | 2 | 10.0 | 8.10 | 2.00 | .391 | .451 | .565 | 1.016 |
| Tomas Nido | 12 | 78.0 | 2.88 | 3.76 | .230 | .284 | .364 | .648 |
| Wilson Ramos | 16 | 97.0 | 5.20 | 4.41 | .258 | .303 | .427 | .731 |
| Rene Rivera | 2 | 12.2 | 2.84 | 8.00 | .265 | .288 | .408 | .697 |
He clearly performed better when Nido was behind the plate, though it's unclear why that was the case. Former manager Mickey Callaway noted that Nido was better at handling pitches down in the zone than Ramos, which is an important factor considering Syndergaard's sinker is likely his best weapon. Perhaps more importantly, however, is that Nido may be an equalizer against something that's been plaguing Syndergaard for years: his command.
Nido's pitch framing (2.4) was rated much higher than Ramos's (-7.6) for 2019, which may have played an important role in Syndergaard's performance. If the right-hander can't quite locate his pitches, that extra bit of help from his catcher could absolutely determine the outcome of any given at-bat.
A similar dynamic played out in 2018 where Syndergaard was at his best with Nido behind the plate, and Nido's pitch-framing easily outperformed the other catchers on the roster. His 2017 was decimated by injuries, but it should come as no surprise that Syndergaard's best season in 2016 was anchored by a trio of catchers that had superior framing numbers in Rivera, Travis d'Arnaud, and Kevin Plawecki.
Is pitch-framing really the key to maximizing a Syndergaard pitching performance? While there's obviously any number of factors that could sway his results on any given day, the numbers sure do seem to suggest it as at least a plausible correlation. Is it enough to merit giving in and allowing Syndergaard his own personal catcher? I think so, at least.
One could argue that the greater issue, the one with the most impact on this club's future, is the fact that Syndergaard simply needs to finally harness his significant potential. That's obvious, of course, though easier said than done. On the other hand, it makes sense for the team to squeeze every advantage they can out of their roster, and making Nido or Rivera his personal catcher seems a small price to pay for the potential payoff.