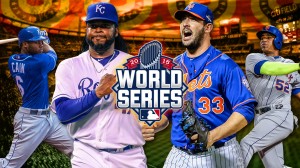 The Mets made the World Series in 2015, which isn't that long ago but, in some respects, seems like it was a different lifetime. The average age of that World Series team was 28.8, perhaps slightly older than one might expect but it wasn't exactly the 1980 Phillies "Wheeze Kids," who averaged 30.9 years of age. As we gear up for the 2020 season, five years after the World Series appearance, only six players are still around from the 2015 NL Champions.
Among the hitters we have Yoenis Cespedes and Michael Conforto. The pitchers have more representation, with Jacob deGrom, Noah Syndergaard, Jeurys Familia and Steven Matz. How does that compare to five years after the previous times a Mets squad made the World Series? Let's check:
1974 – 8 hitters, 4 pitchers
1978 – 2 pitchers, 2 hitters
1991 – 4 hitters, 3 pitchers
2005 – 1 hitter
It's no surprise that the pre-free agency 1974 club had the most holdovers from the World Series team from five years earlier. But it's not like that was a particularly good year with all of those veterans. The '74 Mets – one year removed from another World Series appearance – went 71-91.
By 1978, most of the Miracle Mets from 1969 were no longer around. Of the four holdovers from the '73 World Series team, only two played for the club in '69. The actual '78 Mets might have been better if the entire '69 team suited up for them, as they finished the year at 66-96.
After finishing with 90 wins in six of the previous seven seasons (and 87 wins the other year) the 1991 Mets were an extreme disappointment with a 77-84 record. There still was a fair representation from the '86 champs, with seven players, including three pitchers who played major roles in delivering the team's second World Series trophy. But those guys were no longer the elite starters they were five years previously. Howard Johnson tried his best – he finished fifth in the MVP vote – but he could not do it alone.
The 2000 Mets were an old team, with an average age of 30.4 years. So, it's not a huge surprise that there was just one guy remaining five years later. Hall of Famer Mike Piazza was the lone holdover and even he would be gone the following year. But that '05 squad ended up playing better than the three previous teams on this list, as they finished the year 83-79.
So, should we be happy or sad that there's more holdover from the 2015 club than the five years later squads from the previous two times the Mets won the pennant?
Anyone who's upset that Conforto, deGrom and Syndergaard are still on the Mets is pretty crazy. And there's nothing wrong with Matz as your fifth starter. Perhaps his 30-pound weight loss will make Familia a nice fourth option out of the bullpen. And Cespedes remains the biggest wild card of them all. The Mets are in the fortunate position of not really needing anything from the guy who was credited for driving them to the World Series five years ago as a deadline trade acquisition. But the squad certainly wouldn't turn up its nose for a reasonable facsimile of the Cespedes who put up a 155 OPS+ for the team in 2015.
The last World Series teams that we can compare to the versions five years later are the 2014 Giants and Royals. The Giants returned six guys from that championship squad in 2019 and they proceeded to go 77-85. The Royals returned only two players and went 59-103.
Let's look at some recent World Series teams and how those squads did five years later, regardless of how many returning players they featured.
2013 – Red Sox over Cardinals
2018 Red Sox 108-54
2018 Cardinals 88-74
2012 – Giants over Tigers
2017 Giants 64-96
2017 Tigers 64-98
2011 – Cardinals over Rangers
2016 Cardinals 86-76
2016 – Rangers 95-67
2010 – Giants over Rangers
2015 Giants 84-78
2015 Rangers 88-74
2009 – Yankees over Phillies
2014 Yankees 84-78
2014 Phillies 73-89
2008 – Phillies over Rays
2013 Phillies 73-89
2013 Rays 92-71
2007 – Red Sox over Rockies
2012 Red Sox 69-93
2012 Rockies 64-98
2006 – Cardinals over Tigers
2011 Cardinals 90-72
2011 Tigers 95-67
2005 – White Sox over Astros
2010 White Sox 88-74
2010 Astros 76-86
So, what do we have? Of the 20 teams to play in the World Series from 2005-2014, nine of them finished under .500 five years later. Six teams finished with a win total from 84-88, four finished with a win total in the 90s and one team cracked 100 wins.
My expectation is that there would have been a few more teams finish with below .500 records. The AL Central clubs – Rangers, Tigers and White Sox – gave four teams that finished with 88,88, 95 and 95 wins five years later. If two or three of those four had finished under .500 – that would have essentially matched my unresearched opinion.
Most everyone would be surprised if the 2020 Royals finished above .500 in 2020. Here's hoping the Mets hold up the honor of the 2015 World Series by finishing with 90 or more wins five years later. If nothing else, they should finish with the best plus-five-years record of any previous Mets World Series team.