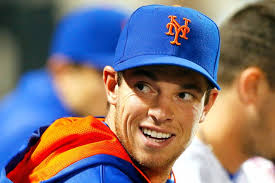 Two of the most interesting things about Mets pitcher Steven Matz have (mostly) nothing to do with his numbers on the field. Like teammate Jacob deGrom, Matz consistently goes about his business in a professional manner that contrasts with the club chaos that often surrounds him. Perhaps more interesting, however, is that he isn't really a polarizing figure among the fan base despite a history of disappointing performance that belies his former top prospect status and the promise he flashed during the Mets' 2015 run to the World Series and his 2016 rookie season. The former point likely contributes to the latter, as Matz displays none of the bravado of a Matt Harvey or Noah Syndergaard, though never truly had as high a ceiling as either player.
The title of this piece may not seem quite apt for a player like Matz. Indeed, "enigmatic" is a loaded word generally reserved for players, like the aforementioned Harvey, with outsized personalities as big as their significant talent. Here, though, we use it in the most literal sense. Matz, despite being in the league since 2015, is a difficult pitcher to understand. Perhaps more succinctly, and as Brian Joura wrote in his projection article in February, Matz is a riddle.
The two main knocks on Matz over his career have been his inability to stay on the field and his inconsistency when he does take the mound. At this point in his career, and after two straight seasons of 30 starts, it appears as though his health issues are mostly behind him (knock on wood). That just leaves his performance, which has ultimately not been up to the standards he set for himself from 2015-2016.
Matz's 105 ERA- and 105 FIP- from 2016-2019 are both right around average, and place him around 100th of the 140 starting pitchers that qualified during the selected time frame. His xFIP- of 95 and SIERA of 4.15 are also about average, though that SIERA value is right on the cusp of below average. Those xFIP- and SIERA values place him around 50th of those 140 players, a much more palatable place for sure. It should be noted that these values are certainly buoyed a bit by his 2016 season, and the 2018-2019 version of Matz is very likely his true talent level.
These statistics attempt to isolate the true talent level and performance of a pitcher, and what they tell us about Matz is what we've seen over the last 4 years: he's an inconsistent and average pitcher that mixes in stellar stretches with awful ones.
That inconsistency can be maddening for a team looking to solidify their front five and give themselves the best possible chance to win. It's why we continuously see Matz having to fight for his rotation spot, most recently because of the offseason additions of Rick Porcello and Michael Wacha. It's also why the team briefly moved him to the bullpen last season after a disastrous June.
We shouldn't forget that there's immense value in what Matz brings to the table, though. He's a number three at his best, a number five at his worst, and roughly a solid number four the rest of the time. That's particularly valuable for a team that just lost their number three starter and will likely lose his replacement whether or not the 2020 season actually occurs. Talk of trading Matz, who doesn't become a free agent until after the 2021 season, seems problematic for a team with little pitching prospect talent ready to step in right away.
Technically speaking, Matz only has three "full" seasons as a starter. He's been hampered by injuries, of course, and there remains the adage that southpaw pitchers take a bit longer to develop than their right-handed counterparts. Is it possible that he still has room to grow before he hits free agency? Sure, particularly if Jeremy Hefner can pick up where Phil Regan left off in helping Matz finish 2019 strong. Then again, this may be a riddle that the Mets simply cannot solve.