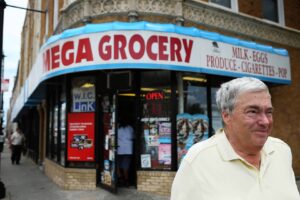 Over the past four weeks, The Last Dance documentary chronicling the life and career of Michael Jordan has captured the minds and viewership of millions of Americans. Over the course of the documentary, fans both young and old either rekindled fond memories of Jordan, or developed a new found admiration for the former Chicago Bull legend. Over the course of this ten-part documentary series, which is set to conclude tomorrow night at 9 pm on ESPN, viewers have seemingly also grown to show a shared disdain for former Bulls general manager Jerry Krause. Krause is mostly known for his six championship rings that he claimed while with the Bulls, but he also left an imprint in New York as well.
Although Krause's fame came in being a general manager as he molded the Bulls into a formidable dynasty in the 1990's, his career began in scouting. Krause supposedly discovered Earl Monroe while working as a scout for the Baltimore Bullets, and Monroe would later go on to become a prolific scorer for the Bullets and Knicks. This ability to scout talent led Krause to baseball, and an eventual position for Jerry Reinsdorf's Chicago White Sox. He impressed Reinsdorf so much during his time with the White Sox that when he purchased the Bulls in 1985, Reinsdorf hired Krause as general manager for the Bulls.
Krause was responsible for the formation of the 1990's Bulls dynasty by drafting not only Jordan, but also Scottie Pippen, and also hiring Phil Jackson as the coach. Krause's name has been slandered in The Last Dance however, as it has become evident that he was keen on breaking up Jordan, Pippen, and Jackson following the 1998 season. His strenuous relationship with those three has been a constant talking point throughout the documentary. Krause would remain as general manager until 2003, when he left basketball for good. He would return to baseball at first with the New York Yankees, and then in 2005, he landed with the New York Mets.
While Krause was considered successful during his tenure with the New York Mets because of their division crown in 2006, there is also reason for Mets fans to see him as a foil much like the likes of Jordan, Pippen, and Jackson did. Before Jordan hit the court in the 80's and 90's, there was a dominant athlete who played for the Mets. Tom Seaver hit the ground running after debuting for the Mets in 1967, before leading the team to the World Series championship in 1969. After being traded away from the team in 1977 in the Midnight Massacre, Seaver returned to the Mets after the 1982 season.
At this point, due to his age and inflated contract, many thought that Seaver would finish his career with the Mets. The Chicago White Sox had a different idea however, and picked Seaver from the Mets in 1984 free-agent compensation draft. At this point, Krause was one of the more trusted executives within the White Sox organization. According to Krause's biography on the Arizona Diamondbacks' front office page, Krause was instrumental in acquiring Seaver from the Mets. While Mets fans don't have as much reason to gripe as Jordan, Pippen, and Jackson, there can be commonalities to be found between Bulls fans and Mets fans for the lack of regard that Krause had when looking at the meaning of a franchise player to their respective franchise.
By all accounts however, Krause's stint serving the Mets was a lot less acrimonious. According to his boss, Omar Minaya, Krause was a pleasure to have on the staff. "I have very fond memories of our relationship. I felt fortunate to be able to hire him because he was a hard worker and had great knowledge on how to break down a player from a scouting perspective. He also had a real eye for seeking out those diamond-in-the-rough players. I always learned a lot from our conversations because we even talked about the similarities between great players in baseball and basketball, with the athleticism required for both sports. He loved talking scouting and had a great knack for it." Minaya told Ken Davidoff of the New York Post.
Krause's tenure with the Mets ended in 2010, but he continued to work in baseball until his death in 2017. Krause was posthumously inducted into the Naismith Memorial Basketball Hall of Fame the same year. While many people are hesitant to praise Krause because of the infamous relationships that he held with his players and coaching staff, it can't be argued that he was a legendary scout for two sports, which is extremely rare. It is always interesting to when see a legendary person like Krause had a role with the Mets at some point in their life.
Jerry Krause won six titles with the Chicago Bulls in the 1990's as General Manager
He was responsible for the scouting and drafting of Earl Monroe, Michael Jordan, and Scottie Pippen
Krause also was responsible for the White Sox drafting Tom Seaver away from the Mets in 1984