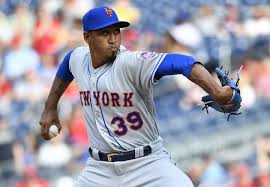 It might be slightly hyperbolic to call 2020 a hellscape, but the good news is that baseball is officially back to return some sense of normalcy to our everyday lives. Despite feeling like we're in the opening montage of a post-apocalyptic movie, baseball provides a welcome reprieve from the onslaught of seemingly endless bad news.
Yesterday the Mets held to their annual "win on opening day" tradition, with Jacob deGrom laughing at the concepts of "rust" and "normal human capability" as the Mets triumphed over the Braves to open the 2020 season. Of course, there was never any real concern regarding how deGrom would perform this season beyond his chances at a Cy Young award three-peat. One of his pitching staff cohorts had plenty of questions heading into 2020, however, though he certainly put our fears to rest for at least one night.
One of the toughest aspects of writing about baseball when there's no baseball (besides the whole no baseball thing) is that there is no data to analyze and discuss. We'd be well past the halfway point of the season if we were living outside the darkest timeline, and we'd know things like whether or not Edwin Diaz bounced back or continued to shrivel like a salted slug under the bright New York City lights. Instead, we start our assessment of his sophomore year in Queens just a week shy of what would have normally been the July trade deadline. So far, so good, as the saying goes.
Back in January I wrote about Diaz's poor performance in 2019 and the differences in things like the spin rate, release point, and movement on his pitches when compared to his stellar 2018 season. In summary, his opponents seemingly just kind of knocked him around all year without an apparent explanation. The process appeared solid yet the results weren't ideal, which is to say 2020 was more or less about hoping that continued good execution would lead to better results. Not exactly a prospect to be excited about, for sure.
Diaz was thrown right into the fire and tasked with protecting a 1-0 lead while facing the heart of the Braves order in his 2020 debut, of course. Despite being slightly wild at times, he looked very good against a set of tough left-handed hitters. He induced a grounder on his first pitch to retire Ozzie Albies, walked Freddie Freeman after almost giving up a homer, then finished the game by striking out both Marcell Ozuna (the lone right-hander) and Matt Adams. The pitch location chart below, taken from Baseball Savant, shows the location of his thirteen pitches.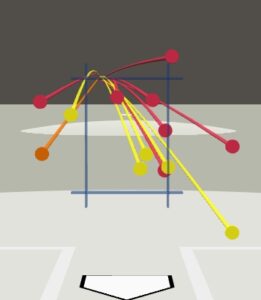 His wildness is apparent there, but he also did a good job of hammering the left-handers inside even if he didn't quite get in there tight enough. He also did a good job of sequencing his pitches, mixing his slider and fastball effectively to keep Ozuna and Adams off balance specifically. The charts below are from Texas Leaguers and show the movement and release points of his pitches, a point of discussion in the article linked to earlier.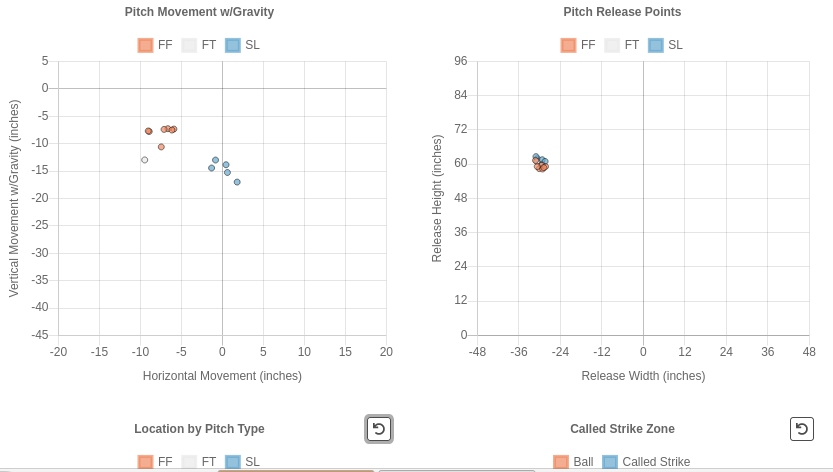 Without diving too deeply here, it should be noted that the horizontal movement on both his fastball and slider more closely resembled 2019 than it did 2018. The vertical movement on the fastball was similar to both 2018 and 2019. While the horizontal movement of his slider has remained fairly consistent from 2018 to yesterday, the vertical movement on it yesterday was closer to 2019 than 2018. It's unclear if this should be concerning, but the sliders he threw yesterday broke almost two inches more than the average during his 2018 campaign. In theory more movement would seem to be advantageous, but 2019 proved to be a tough year for the young hurler. A huge caveat here is that movement metrics are averaged for any given season, and we're only looking at five sliders here. Additionally, his release point remains remarkably consistent. You can find the actual numbers and charts here for reference.
Is this analysis a bit much for one game? It sure is! We're literally thirteen pitches into Diaz's 2020 campaign, so we obviously can't assume he's been cured of whatever ailed him last season nor should we really put too much stock into any small subset of pitches. Yesterday was a good start, though, and hopefully portends good things in the 59 games the Mets have left this season. Even with the expanded playoff format, every win counts in such an abbreviated season. Vintage Diaz is a weapon no other team has at the moment, and the Mets postseason hopes improve exponentially if they get the pitcher they thought they traded for before the 2019 season.