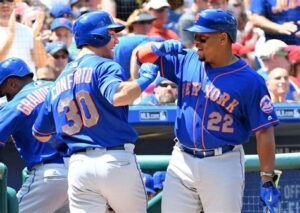 Topps' 1967 baseball card set featured a subset with multiple players on a card with an alliteration theme based on the team's name. There was "Cards Clubbers," "Pitt Power" and "Twin Terrors." For the Mets, it was "Mets Maulers" and it featured Ed Kranepool and Ron Swoboda. While they ended up as two of the best hitters on the '67 team, few would call them maulers, as Swoboda had a 117 OPS+ and Kranepool had a 100 mark. But flash forward to 2020 and maulers would be a good adjective to describe the team's hitters.
The Mets are second in the National League in team OPS with a .799 mark, just eight points behind the Phillies, who've played seven fewer games. For a franchise that historically has been much more about pitching than hitting, it's nice to see such a good offensive team. To put this team .799 OPS mark in perspective, the 2018 Mets had just three players with at least 200 PA who bettered that mark. This year's team could fill an entire lineup. And that's with three guys in the Opening Day lineup really under-performing and a fourth who opted out of the season.
Let's run a chart of the players with at least an .800 OPS so far this year:
And now let's look at all of these players individually:
Nimmo – As well as Nimmo's been playing, he's the one player on this list that might actually have room for improvement. Coming into this season, Nimmo had a lifetime .339 BABIP in 1,146 PA. Imagine what his stat line would look like if the hits were falling in at his career rate. In his last 11 games, Nimmo has a 1.109 OPS with a .313 BABIP. He's cut down on his strikeouts, even with having a couple of called third strikes on pitches outside of the strike zone. And he's done that while raising his BB% and posting a higher ISO than in his breakout 2018. Nimmo is a joy to watch, both for his effervescent smile and his terrific production.
Conforto – When he first arrived in the majors, the broadcasters thought he had the potential to hit .320 in a season. Right now, Conforto is giving a glimpse of what they were talking about. He's been consistent the entire year, perhaps nowhere more so than against lefties. Previously, LHP had done a good job of neutralizing Conforto. But this year he has a 1.060 OPS against southpaws. While Nimmo has been terrific, Conforto slightly edges him to date, with a 160 OPS+. But he also holds a 91-point edge in BABIP. The hope is that when the hits stop dropping in at their current rate that Conforto will up his power. He currently has a .183 ISO, which is 43 points below his lifetime average in the category.
Alonso – He was so good last year that a 128 OPS+ feels like a disappointment. Alonso got off to a poor start in this shortened season. But after bottoming out with a .548 OPS on August 2, he's put up a .302/.431/.585 triple slash line in his last 65 PA. In that span, he's doing a good job of drawing walks (18.5 BB%) and hitting for power, with seven of his 16 hits going for extra bases. It still feels a bit underwhelming, mostly because of his struggles with runners in scoring position. Alonso is just 7-35 with RISP and has just a .649 OPS in 44 trips to the plate in those big situations. A few more timely hits will change the narrative on Alonso's year, even if the OPS+ doesn't change much from where it sits now.
Davis – After putting up a 137 OPS+ last year, there were worries if Davis would be able to duplicate his production this season. So far, those doubts seem really misplaced. Even though the strikeouts are up and the power is down from last year, Davis is compensating by getting on base more thanks to a 14.0 BB%. And perhaps most impressive of all, Davis has come in and solidified the defense at 3B after Jeff McNeil opened the year making several errors at the hot corner. Davis was moved off the position last year as he appeared overmatched at the position. But this season he's making plays both to his left and his right. And his arm is as accurate as it is strong.
Smith – Anyone who says they predicted this kind of season from Smith is lying through their teeth. He doesn't have enough PA to qualify for the SLG title, but if he did, he'd be in first place with his .754 mark. Last night in the Game Chatter, Name figured out that if you gave him outs for each PA he's shy of qualifying, Smith would have a .710 SLG. That would drop him to fourth in the majors in slugging. Few doubted that Smith would be a good hitter but no one saw him with this kind of power. Of his 21 hits, 16 of them have gone for extra-bases, including a league-leading 10 doubles. And on top of that, he seems to be everyone's favorite teammate. Smith should send a thank you card to Yoenis Cespedes for opting out.
Cano – The haters are many but few can find fault with the production Cano has given to date. And even a trip to the IL hasn't slowed him down any. Cano had a 1.020 OPS when he was sidelined with an abductor strain. But in 26 PA since returning from the injury, he's got a 1.106 mark. And sure, the BABIP is unsustainable. However, it's great to see his .271 ISO, especially after last year's .172 mark in the category. With everyone hitting, the Mets can afford to give Cano a day off here and there to help keep him fresh. And the kids give a quality defensive replacement for the days he's in the lineup at second base.
Guillorme – Prior to this season, Guillorme was best known as the guy who caught a flying bat in the dugout in a Spring Training game with his bare hands. While Nimmo was running for cover, Guillorme just snagged it, like he was getting his morning newspaper from the paperboy. He's got the toughest road for PA of anyone on the list but all he's done when given a chance this year is to hit. Without a doubt, the hits are falling in and the numbers above have to be taken with a giant grain of salt. But if nothing else, he's solidified his spot as a bench player and will give the Mets the freedom to trade one of their young infielders in the offseason.
Nido – Many grumbled that with Noah Syndergaard out for the season that there was no reason to carry Nido on the roster. But Nido has been a pleasant surprise this year. And while a lot of the production is thanks to his recent two-homer game, Nido also had a .308 AVG before that happened. With Wilson Ramos struggling to hit his weight, it's been nice to see Nido hitting this year, even if it's just a mirage.
*****
Luis Rojas has all of his hitters at his disposal right now, even if McNeil isn't quite at 100 percent. He's got givens for his lineup with Alonso, Cano, McNeil, Nimmo, Conforto and Smith. But the other three spots are not so easy. Amed Rosario has been logging most of the time at shortstop but he's been pretty brutal offensively. Andres Gimenez appears to give the team more of a spark, even if he's not been overly productive at the plate. And perhaps Guillorme can get a start or three at short going forward, too.
A healthy McNeil will be in the lineup, with the only question being where. He seems to be the left fielder now, with an occasional start at second base when Cano is the DH. And to make Rojas' decisions even harder, most of the hitters are lefties, which makes platooning difficult. But it might be what ends up happening at shortstop. Ramos will still get the lion's share of starts behind the plate. But it would be nice if he could join the others in this offensive party that's going on.