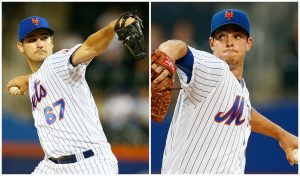 Leave it to the Mets to take a seemingly obvious decision and make it in the most excruciatingly inept way with what appears to be an almost embarrassing lack of forethought. After days of refusing to commit to Steven Matz's next start and flirting with the idea of moving Seth Lugo into the rotation, the Mets appeared to announce their decision by keeping Lugo out of Wednesday's win over the Marlin's that the unexpectedly Lugo-less bullpen almost blew. Luis Rojas officially announced that Lugo would start in place of Matz the next day, with the added surprise that Lugo's stay in the rotation would be more than simply a spot start.
To be completely fair, moving your most consistent and arguably best reliever into a role where he will almost certainly go from "borderline elite" to "mostly average" will have ripple effects on the entire pitching staff. The team has no idea what to expect from Lugo as a starter and even less insight into how Matz will perform as a reliever, and this lack of confidence was apparent in their indecisiveness. It's possible that the move may strengthen a rotation ravaged by injuries while only slightly degrading a bullpen that still has some big names, but the team also runs the risk of both Matz and Lugo imploding in their swapped roles. In such a short season, and with a current record of 12-14, this would have a devastating effect on their postseason chances.
Of course, we can't undersell just how much of a boon even an average performance from Lugo would be in the rotation considering its current state. It's a near certainty that Lugo is less valuable as a starter than he has been as a reliever in a vacuum, but in the context of the Mets' current situation the trade off may be worth it to bolster a rotation hurting for effective bodies. The problem with the Mets' thinking here, however, is that it's incredibly shortsighted.
The Mets' rotation hasn't performed as hoped, though it was certainly knocked down a few notches in quality with the loss of both Noah Syndergaard and Marcus Stroman. Even so, the overall team results don't quite match the individual, isolated performances of most of the staff. The table below includes a few key stats for all of the Mets' starting pitchers so far this season.
| Name | IP | HR/9 | WHIP | BABIP | ERA- | FIP- | xFIP- |
| --- | --- | --- | --- | --- | --- | --- | --- |
| Jacob deGrom | 28.0 | 0.64 | 0.89 | .269 | 45 | 49 | 60 |
| Steven Matz | 23.0 | 3.52 | 1.57 | .318 | 211 | 159 | 97 |
| Corey Oswalt | 4.1 | 0.00 | 1.15 | .385 | 97 | 46 | 85 |
| Robert Gsellman | 3.2 | 2.45 | 2.45 | .400 | 230 | 182 | 160 |
| Walker Lockett | 6.0 | 1.50 | 1.5 | .333 | 176 | 117 | 125 |
| Michael Wacha | 14.0 | 1.93 | 1.64 | .395 | 151 | 106 | 98 |
| David Peterson | 21.2 | 0.83 | 1.15 | .250 | 68 | 92 | 110 |
| Rick Porcello | 25.0 | 0.72 | 1.64 | .402 | 135 | 74 | 95 |
The numbers above generally paint an ugly picture, but if we look a bit closer we can see two of the main culprits for the rotation's underwhelming performance so far this season (beyond the injuries): bad luck and suspect defense. The former can mostly be attributed to small sample sizes, but the latter is something the team was well aware of heading into the season. If we look at the differences between ERA- and FIP- for everybody but Jacob deGrom (class of his own) and David Peterson (possible blip), we see that their fielding independent performances have actually run the gamut from about average to quite good. Combine these independent performances with sky-high BABIP for pitchers like Michael Wacha and Rick Porcello, which are much higher than their career averages, and we begin to see why health isn't the only poor luck that Mets starters have faced this season.
This is all mostly true for Matz as well, but the difference for him is that his ERA- and FIP- are so blindingly bad that better luck and/or defense wouldn't be much of a boost. Matz's main issue this year has been a HR/9 that is abnormally high (3.52) at more than double his career average (1.43). This is made even more evident by his 97 xFIP-, which normalizes home runs based on fly balls rather than raw home run totals. Interestingly, his fly ball rate this season is only slightly elevated, while his HR/FB rate has almost doubled. This sort of screams "juiced ball," though it's unclear why the ball didn't affect him last season if that is indeed a contributing factor this year.
All this is to say that moving Matz to the bullpen won't fix whatever issue is causing his astronomical home run rate, and putting him there would seemingly only exacerbate the situation should he find himself thrust into high-leverage situations. The better course of action here was likely working to fix Matz rather than upending the bullpen, but the Mets tend to take the harder road for reasons unknown.
The question that remains to be answered is whether the downgrade in the bullpen is ultimately worth the potential upgrade Lugo may provide to the rotation. On the bright side, Lugo will finally get the shot in the rotation that he's been pining for over the last few seasons. Perhaps he's learned enough in relief to translate his success there into a starting role, or maybe this will be his final shot at a career as a starter. Either way, the Mets have decided that we'll all get to see soon enough. Of course, this all may be moot now that the team's games are currently suspended due to positive COVID-19 tests. Poor Lugo just can't seem to catch a break.