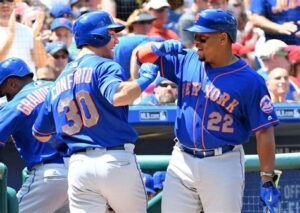 The rule of thumb for BABIP is that a "normal" one is around the .300 mark. In our last full season of 2019, the MLB average BABIP was .298 or about as close to .300 as you can get. But what's "normal" for the league is not necessarily normal for the individual. David Wright had a lifetime .339 BABIP while Ed Kranepool had a lifetime .271 mark in the category. If either of those players put up a .300 BABIP in a season, it would not be normal. It would be an underachieving year for Wright and a darn good one for Kranepool.
In 18 years in the majors, Kranepool posted a BABIP of .300 or better just three times and they came in consecutive seasons, from 1974-76. His high in PA during that stretch was 455, so it didn't come in what we would consider a full season. Kranepool's high in PA for a year came in 1965, when he came up 575 times. His BABIP that season? A .272 mark, which was essentially his lifetime average.
We should keep Kranepool in mind when looking at the BABIP marks of guys from 2020. The most PA of any player on the 2020 Mets was 239. The fewer PA you have, the easier it is to post an outrageous BABIP. When Kranepool posted a .335 BABIP in 1975, he didn't establish a new level of performance but rather he experienced the hits falling in for him over a 357-PA sample. In 1977, he was back to a .270 mark in the category.
The majority of hitters for the Mets performed more or less as expected in BABIP in the shortened season. The three exceptions were Alonso, Conforto and Smith. Alonso fell 28 points shy of his lifetime BABIP, although he only had one other MLB season under his belt. In 2019, Alonso had a .280 BABIP. You can make the case that he underperformed by 38 points. Meanwhile, the other two players far exceeded their lifetime marks in the category.
When Smith first made it up to the majors, he was viewed as a guy who wouldn't hit a ton of homers but who would hit the ball from foul line to foul line and who would develop a little more over-the-fence power as he aged. Instead, he came up and hit 9 HR in 183 PA. But the hits didn't fall in and he had just a .218 BABIP. The following year he posted a .297 BABIP and in 2019, it was .320, albeit in just 197 PA. Smith ended up with the same number of ABs in 2020 as he did in 2019. But he had six more hits, which upped his AVG 34 points. And that's comparing to 2019, which was also above his career mark. Like Alonso, Smith hasn't had enough PA in the majors for us to have a good idea of what his personal BABIP really is. We should feel confident that it's not the .368 mark he put up in 2020. But it's not impossible that it is the .320 he posted in 2019.
Which brings us to Conforto.
With over 2,000 PA in the majors coming into 2020, we had a pretty good idea of what Conforto's BABIP level was. In those 2,268 trips to the plate, Conforto had a .294 BABIP. And then in 233 PA, the hits fell in at a .412 clip. And it's important to note that in 2020, Conforto's BB% decreased, as did his ISO. He didn't discover a new level, he got lucky with the hits falling in. Conforto's 2020 is like Kranepool's 1975, except to an even greater degree. At least Kranepool matched his lifetime BB% in '75 and he was only 60 points above his lifetime BABIP.
What would Conforto's line in 2020 looked like if he had his career rate in BABIP rather than the .412 mark he did? Conforto had 65 hits last year. In order for him to get a .294 BABIP, he would have needed 16 fewer hits if we kept everything else exactly the same. So, he would have had 49 hits. With those 49 hits, his AVG would have been .243 or exactly what he hit in 2018. His OBP would now be .343 and his SLG would be .436 even if we assume that all of the hits he lost were singles. In triple slash form, if the hits fell in at a normal rate for Conforto in 2020, we'd be looking at:
.243/.343/.436
No one's going to produce the same numbers year in and year out in any category over an extended period of time. But what Conforto did was so completely out of character from what he established as a baseline that we just can't take it seriously. Combined with the fact that his BB% and ISO decreased, while his K% went up, it's next to impossible to conclude that Conforto reached a new level as a hitter.
The 2020 numbers were great. A .401 wOBA and a 157 wRC+ are exactly the numbers we hoped Conforto would put up after his terrific debut in 2015. But these numbers came about because the hits fell in for him. Nothing more, nothing less. Before you trip over yourselves to sign Conforto to an extension based on what he did in 2020, keep in mind that it was a BABIP-fueled fluke. If you want to extend him based on what he did in 2018-19, that's fine. And that's a real good player, too. It's just not a 5-fWAR guy.