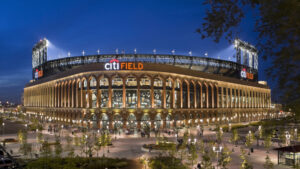 As the Flushing Faithful start prepare for the first season of the Steve Cohen regime, the excitement is extremely plausible. A large number of articles have been released regarding the potential acquisitions that the New York Mets could make this offeseason. While Cohen is expected to make waves this offseason with acquisitions, it is first important to understand that there are necessity players as well as luxury players. The necessity positions for the Mets are certainly starting pitching, catching ,and center fielder; while a luxury addition would be adding Francisco Lindor. In addition to Lindor, the Mets have been linked to the likes of J.T. Realmuto, George Springer, and Trevor Bauer.
While it is important to think about how those players will potentially fit onto the roster, it is also important to think about how they will fit into the Citi Field. Being that the Mets play 81 games at Citi Field, it is important that a player is not only comfortable playing there, but that their style of play will translate to the dimensions of the field. Luckily, Baseball Savant gives us the ability to look at anyone's spray chart, and plop it down on any MLB field. For the purpose of our study, we'll use Citi Field.
Trevor Bauer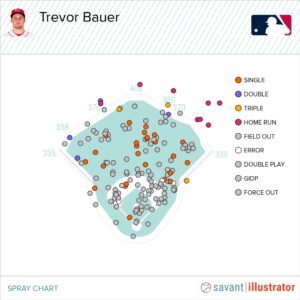 Perhaps the flashiest free agent on the market, Bauer is looking to cash in on his NL Cy Young Victory season. With a 1.70 ERA and 100 strikeouts in 11 starts for the Cincinnati Reds last season, he will be commanding top dollar this offseason. While Bauer is known for the entertainment value he brings, he would undoubtedly be a great help to a Mets rotation that crumbled behind Jacob deGrom last season. A 2021 rotation of deGrom, Noah Syndergaard, Bauer, Marcus Stroman, and David Peterson could reinvigorate the mound presence of this team. How would Bauer's pitching style translate to Queens?
Looking at the home runs that he gave up last season, they all would have been home runs at Citi Field as well. An important point to pull from his chart is that he did not give up any doubles down the right field line. This is important because of how pesky balls that are driven down that line can be. The foul line is so close to wall that the ball often juts off of it. These juts seem minute, until it assists a runner getting an extra base on a ball down the line. With a small amount of batted balls going in that direction off of Bauer, he could continue his dominance at Citi Field. The former Golden Spikes winner has never pitched at Citi Field, which adds to the intrigue of his potential success in a Mets uniform.
George Springer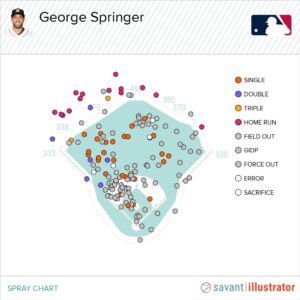 With a need for a true centerfielder at the forefront, it is easy to say that Springer should be the top priority for the Mets this season. He proved last season that he is elite at the plate, even without the banging of trash cans. Springer finished 12th in AL MVP voting, finishing with 14 home runs and a .540 slugging percentage. In looking at his spray chart, it is evident that he would have actually had more home runs if he played at Citi Field.
Springer hit six balls last season that would have been home runs if they were hit at Citi Field. Outside of that fact, the righty showed that he is a major pull hitter. But, he also knows how to find that gap out in left-center field. There have been many balls smacked into that alley that have resulted in extra base hits, and with Springer's speed, he should be a constant threat for a triple if he signs with the Mets this offseason.
J.T Realmuto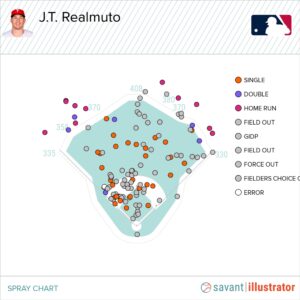 Outside of his excellent ability to frame pitches behind the plate, Realmuto is known for being a threat in the batter's box. This makes him the top catcher in this year's free agent class. The Mets missing catching stung even more during the postseason, as Travis d'Arnaud bursted onto the scene for the rival Atlanta Braves. With that sour taste in their mouth, it makes perfect sense that the Mets have been linked to the two-time All Star.
A common concern with sluggers coming out of Philly is that their home run numbers are inflated because their ballpark is a bam box. Oddly enough, Realmuto would actually have had three more home runs last season if those balls were hit at Citi Field. All of the home runs Realmuto hit last season would have been home runs at Citi Field, which should alleviate concerns that his numbers were inflated because he played at Citizens Bank Park. Having a veteran like Realmuto who shows legitimate power, who also expertly fields his position would have significant upside, even if the price tag is a little high.
Francisco Lindor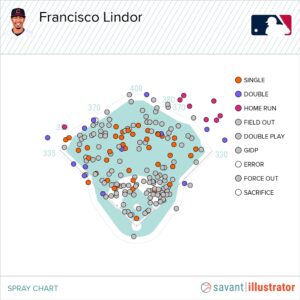 While not a free agent, the stove has been hot this season regarding the Mets acquiring Lindor. The Mets have Amed Rosario and Andres Gimenez to play shortstop, but it goes without saying Lindor would be an instant upgrade at the position. His spray chart is a thing of beauty, displaying his ability to hit in all areas of the field.
What is also encouraging is that he is another one of those players that would have more home runs if his balls were hit at Citi Field last season. In addition to the seven would-be home runs, Lindor displayed an excellent tendency to be able to work both foul lines and gaps. With the spacious outfield grass at Citi Field, there is not much doubt that his game would translate well to New York.
Bauer is the 2020 NL Cy Young Award winner
Springer finished with 14 home runs in 2020
All of the home runs Realmuto hit last season would have been home runs at Citi Field