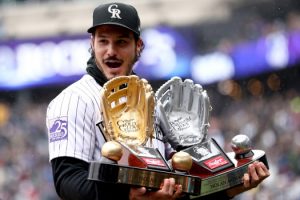 It's no secret that the Rockies would like to get out from the contract of their star third baseman, Nolan Arenado. Recently, the Rockies indicated they would "like to engage" the Mets on a deal for Arenado. That certainly makes sense, as the Mets likely have the ability to take Arenado's contract and the Rockies would prefer to deal him as far away from the NL West as possible.
The Mets could use a Gold Glove third baseman. Is the contract a deal killer? Perhaps but from here on let's focus on what type of value Arenado would provide the Mets, rather than if it's a smart idea at this moment to trade for him. You hear people all of the time quote his road numbers, which are far inferior to the ones he puts up at Coors Field.
But are the road numbers really what he'd hit like all year if he was removed from playing half of his games in Colorado? One of the stats we like to use is OPS+, which adjusts for both league and ballpark – which makes it a good number to use to compare players from different teams or different eras. It's easier to hit in Coors Field in 2000 than it was to hit in Dodger Stadium in 1966. OPS+ puts numbers on an equivalent basis.
In 2000, Larry Walker put up a .309/.409/.506 line for the Rockies. In 1966, Lou Johnson slashed .272/.316/.414 for the Dodgers. Those two lines were separated by 185 points of OPS but once you account for the offensive environment of both the league and the park, those two seasons were virtually identical. Walker posted a 110 OPS+ while Johnson checked in with a 109.
Let's check on Rockies hitters from when when they installed the humidor in 2002 up through 2020. We'll focus on ones who played 650 PA both in Coors Field and with another park or parks as their home and compare how they did both as Rockies and elsewhere. Finally, we'll also include their ages for both splits. Here are the numbers:
We have 24 hitters in our sample and 16 of those put up OPS+ numbers within 10 points in their years away from Coors as they did while playing their home games in Colorado. Additionally, five of the eight hitters who were more than 10 points of OPS+ away did better when they called someplace else besides Coors home.
In his eight years with the Rockies, Arenado has a 120 OPS+ in 4,558 PA. Let's focus on the seven hitters with at least 1,000 PA with the Rockies and an OPS+ mark of at least 100 and compare and contrast their results with Coors as their home field and without.
Holliday – Like Arenado if he were to be traded, Holliday started out with the Rockies and played elsewhere for the back half of his career.. He actually put up a slightly better OPS+ after the Rockies dealt him. In his last season in Colorado, Holliday had an OPS 105 points higher at home. His first year with a different home park saw him enjoy a 150-point higher home than road OPS.
Cuddyer – A stalwart in Minnesota for the first 11 years of his career, Cuddyer actually improved his production when moving to Colorado, despite being on the wrong end of 30 at the time. In his last year with the Twins, Cuddyer had a 45-point home OPS advantage. In his first year as a Rockie, Cuddyer had a 114-point home edge.
Tulowitzki – One of the top offensive shortstops of his era, Tulowitzki was done in by injuries. In five years after leaving Colorado, he was only able to amass 1,000 PA. His reduced output has as much – if not more – to do with health than with his home park.
Smith – Overall he was slightly better after leaving Colorado. In his last year as a Rockie, Smith had a 34-point edge in home OPS. In his first year after leaving Coors, he had a 22-point road edge.
Wilson – His pre-Rockies career included 22 games with the Mets. That, combined with his years with the Marlins, was more productive than what he did in Colorado. In his last season with the Marlins, Wilson had a 63-point home OPS edge. His first with the Rockies produced a 165-point home edge.
Fowler – Another player like Holliday and Smith to start his career with the Rockies and produce equal or better once he left. In his last year in Colorado, Fowler had a 196-point home OPS edge. His first year in Houston, he had a 103-point home edge.
Reynolds – He played for six different teams before joining the Rockies and his production was nearly identical at Coors as it was previously. In his last season before joining Colorado, he had a 66-point road edge in OPS. His first year in Coors, Reynolds enjoyed a 148-point home edge.
Four of our seven highlighted players started off with the Rockies in Coors before finishing their careers elsewhere. Three of those four produced at an equal or better clip once they left Colorado and the one who didn't had major injury issues. Regardless of if they started their career with the Rockies or not, all seven of these players had a major OPS edge in Coors Field. That had no impact on what they were able to do when they weren't playing in Colorado. There's a Coors Field Hangover effect in place, where it's hard on hitters to adjust in-season to playing on the road. But that effect does not follow the players to other parks, with some actually performing better in road parks.
For the most part, no player performs the same year-in, year-out, even if we build in an aging pattern for the numbers. But we see that OPS+ does a good job of accounting for the difference in parks and leagues. If it didn't, we'd expect to see more random results than we actually do from our 24-player sample.
When looking at Arenado, you're missing the boat if you just look at his raw HR or OPS totals. You'll get a much better idea of who he is as a hitter by looking at his OPS+. Arenado had a poor year at the plate in 2020 so fans and teams will have to decide if this is the beginning of a decline or merely a Covid-year blip.
From 2015-2019, Arenado had a 129 OPS+. In the same time frame, Michael Conforto had a 125 OPS+. If we include 2020, Conforto jumps ahead by a 128-127 mark. Essentially, if the Mets traded for Arenado, the expectation should be they're adding a hitter equivalent to Conforto to the team, assuming 2020 was not a sign of things to come for Arenado.
Of course, offense is only part of the equation for Arenado, who has eight Gold Glove Awards to his credit. Defense is a big reason why Arenado has a 27.8 fWAR since 2015 while Conforto checks in with a 16.0 mark in the same time period. It's not the only reason – Arenado has a 1,076-PA edge since 2015.
Most people view Arenado's contract as prohibitive. There's no way he'd get that much money if he was a free agent right now. His deal was for 8/$260 with an opt out after the 2021 season. Some people consider that he should waive the opt-out clause before the Mets acquire him. But since he's owed $164 million for 2022-2026, maybe that's not really necessary.
Trading for Arenado would give the Mets a two-way player at third base, improving both their offense and defense at the position. But it's an awful lot of money and there's concern about his 2020 numbers. There are reasons to be wary of trading for him. But one thing that shouldn't be a concern is that he hits better in Coors than he does in road parks. As multiple players before him have proven, properly-adjusted hitting numbers (OPS+) don't fall apart once a player leaves Colorado.